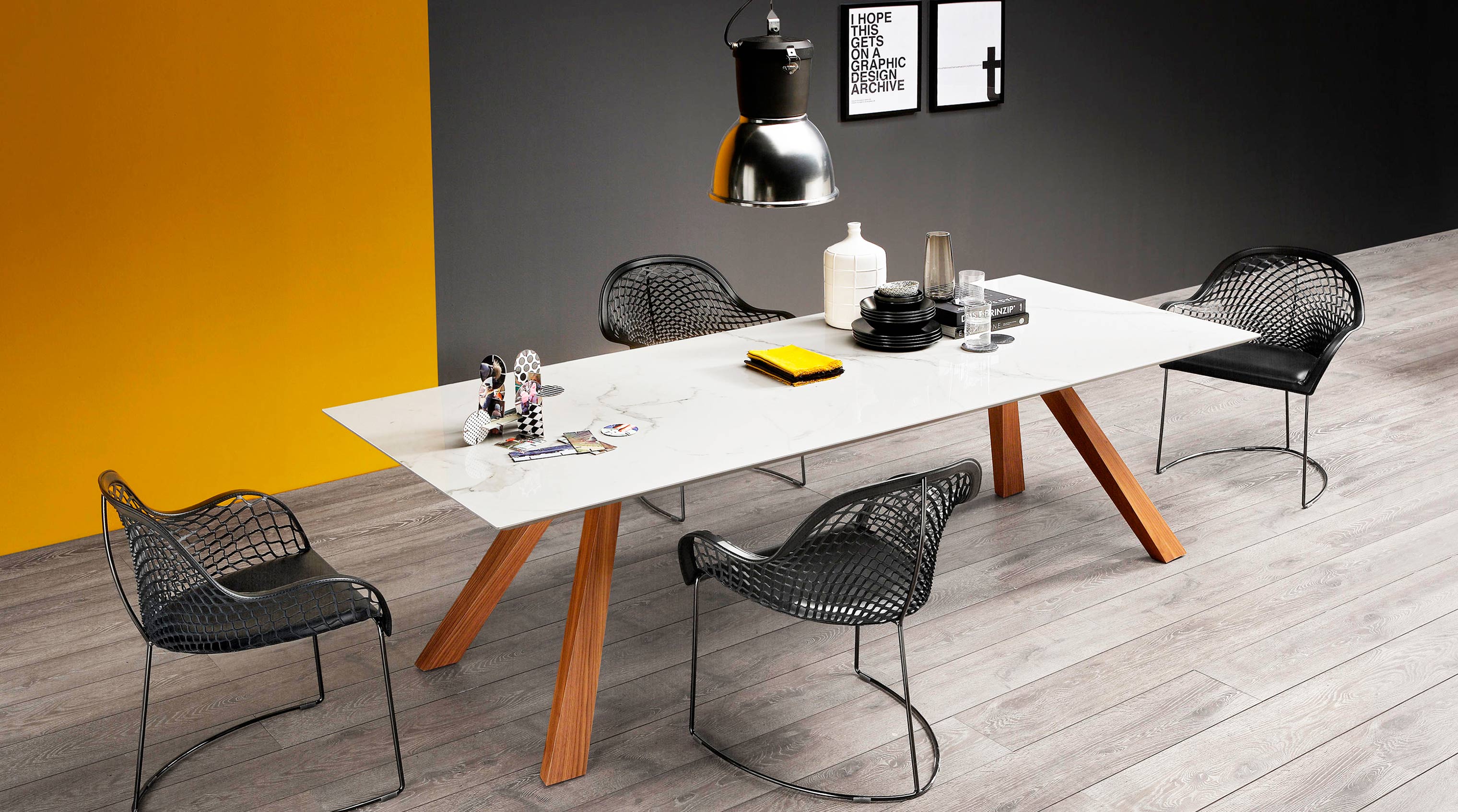 "Anyone who searches for modern furniture must explore the comparative newcomers to the design arena," says Andrew Fisher, the owner of the Arkitektura Showrooms of San Francisco and Birmingham, Michigan. "Zeus is such a company, just over thirty-years-old, offering new design concepts and beautifully managed materials while seeking to compete with Italian furniture makers that have celebrated their centennials and sometimes their sesquicentennials."
"Today, Zeus is a contemporary furniture collection, manufacturing its own products and selling them around the world," the owner of Arkitektura Showrooms continues. "Zeus' leading furniture designers are Maurizio Peregalli, Doriana and Massimiliano Fuksas, Franco Raggi, Marie-Christine Dorner, and Ron Arad."
From these highly esteemed talents has come a portfolio of modern furniture products. Today, Zeus makes chairs, armchairs, sofas, benches, barstools, tables, bar tables, low tables, consoles, designer lighting, beds, containers, shelves, sideboards, clothes stands, mirrors, TV stands, plus an intriguing range of complements, and accessories. To avoid confusion with a name often sought by others, the company calls itself ZeusNoto in Internet space.
"When choosing to name their firm at its inception, the founders were fully away that the name 'Zeus' was both arrogant and confident," Fisher explains.
"Their headquarter is a large garage constructed in the 1950's and located in Corso San Gottardo, right in the heart of the Porta Ticinese Canals' district. Their building's own presence confirms their manifest aesthetics, as expressed in their choices of materials both industrial and natural at the same time," Fisher continues.
"Zeus will apply linoleum flooring to cover tables and consoles. Iron sheet steel is phosphatized and waxed, protecting its surfaces from corrosion. This is combined with stainless steel to merge precious and rustic materials, achieving the Zeus design ambition to bring the strength of stainless steel and the materiality of iron to Italian furniture design," the founder of the Arkitektura Showrooms reveals.
"A recent outdoor collection, RUST with rusty finish, corresponds to Zeus' pursuit of rigor and simplicity, subtracting the unnecessary and focusing on specificity of surfaces and living materials," Fisher continues. Fisher's Arkitektura Showrooms of San Francisco and Birmingham, Michigan are the perfect salons in which to explore Italian furniture from Zeus and almost sixty other modern furniture and contemporary lighting brands. Fisher's premises are open to the architect, interior designer and private collector alike.
Over the course of his career, Zeus designer Maurizio Peregalli has shown particular interest in the relationship between product and commercial space both within and on the exterior of his large converted garage in Milan. Therein, Peregalli offers a turnkey product that brings "the creative process of design and care over detail into line with the feasibility of construction and an attentive control of the relationship between costs, overall image and completion time.
"It is not customary for an architect to provide a complete product, ranging from the design (which can sometimes include the logo and trademark of the sales outlet) to its construction," a Zeus spokesperson says, "but this practice has allowed Peregalli to exercise direct control over the phases of construction of the commercial premises he has designed, trying out materials and techniques in close collaboration with highly skilled craftsmen and technicians."
This is a furniture maker called Zeus at work, indeed.