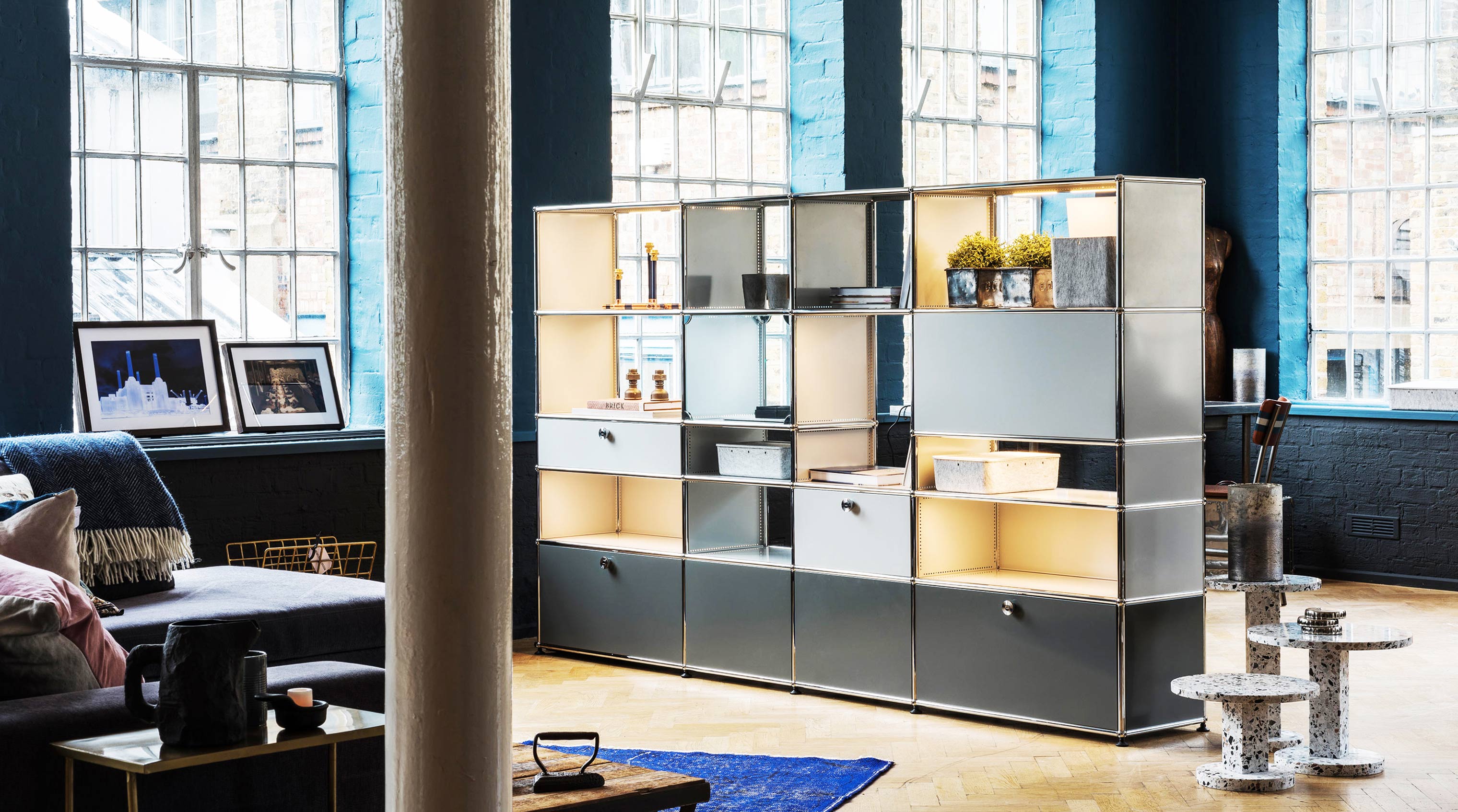 For more than four decades, USM Modular Furniture has followed the simple yet brilliant dictate that "form follows function." The original collaborations of engineer Paul Schärer and architect Fritz Haller more than forty years ago developed a furniture system so elegant and of such technical perfection that is has become a part of the permanent design collection of The Museum of Modern Art in New York.
Today, USM gives you flexible solutions for both home and office, each piece enduring design that will remain collectable and admired over time.
"The only constant is change" is the mantra behind this superb collection. This is new furniture that offers you high quality materials, contemporary furniture that is assembled by the finest Swiss manufacturing techniques. As your home office and commercial work spaces change constantly to adopt to new culture, new thinking and new competitive challenges, so too does your USM modular furniture which may be reconfigured, added to, moved and deployed so that its function is never sacrificed to its continuous beauty.
"When visiting our San Francisco showrooms, it is but an hour's drive to tour Napa Valley and taste the world's greatest wines," invites Andrew Fisher, Arkitektura Owner. "Beautiful vineyards surrounded by rugged hill country are interspersed with inspiring places to lodge and dine. Yet our facilities in Detroit are near fine wine country, as well. You will find no finer blend of beautiful rolling vineyards above two magnificent fords than Traverse City's Mission Peninsula, just four hours drive north of our showroom."
Shifting economic demands and accelerating ecological concerns shape the development of USM modular furniture systems to most responsibly address energy costs, environmental emissions, the impact of sourcing raw materials and advanced, green, high quality production processes.
Above all, ecological considerations demand long service life even as shifting human culture requires our surroundings to feel new and up-to-date. USM sees this as perhaps the most compelling reason to use high quality, durable materials and advanced green manufacturing.
To quote the company: "Exactly because USM's product lines are open systems and not finished furniture types, services are particularly important to us: The modular principle itself already provides a large number of individual possibilities and requires the corresponding specialist skill in the consultation, planning and installation. Additionally, the requirements placed on the modular furniture systems change as the persons using them changes, whether in work or leisure. The support, service and customer care are therefore becoming more and more challenging."
Arkitektura of San Francisco and Detroit (Birmingham, Michigan) is proud to be more than just a furniture showroom for USM Modular but a partner in their never ending quest to provide the most advanced designs and customer care available anywhere. We offer the finest in USM's functional creations, where tailor-made examples can be added to or changed at your choosing and each precision USM pieces leaves enough room for individual flexibility and creativity.