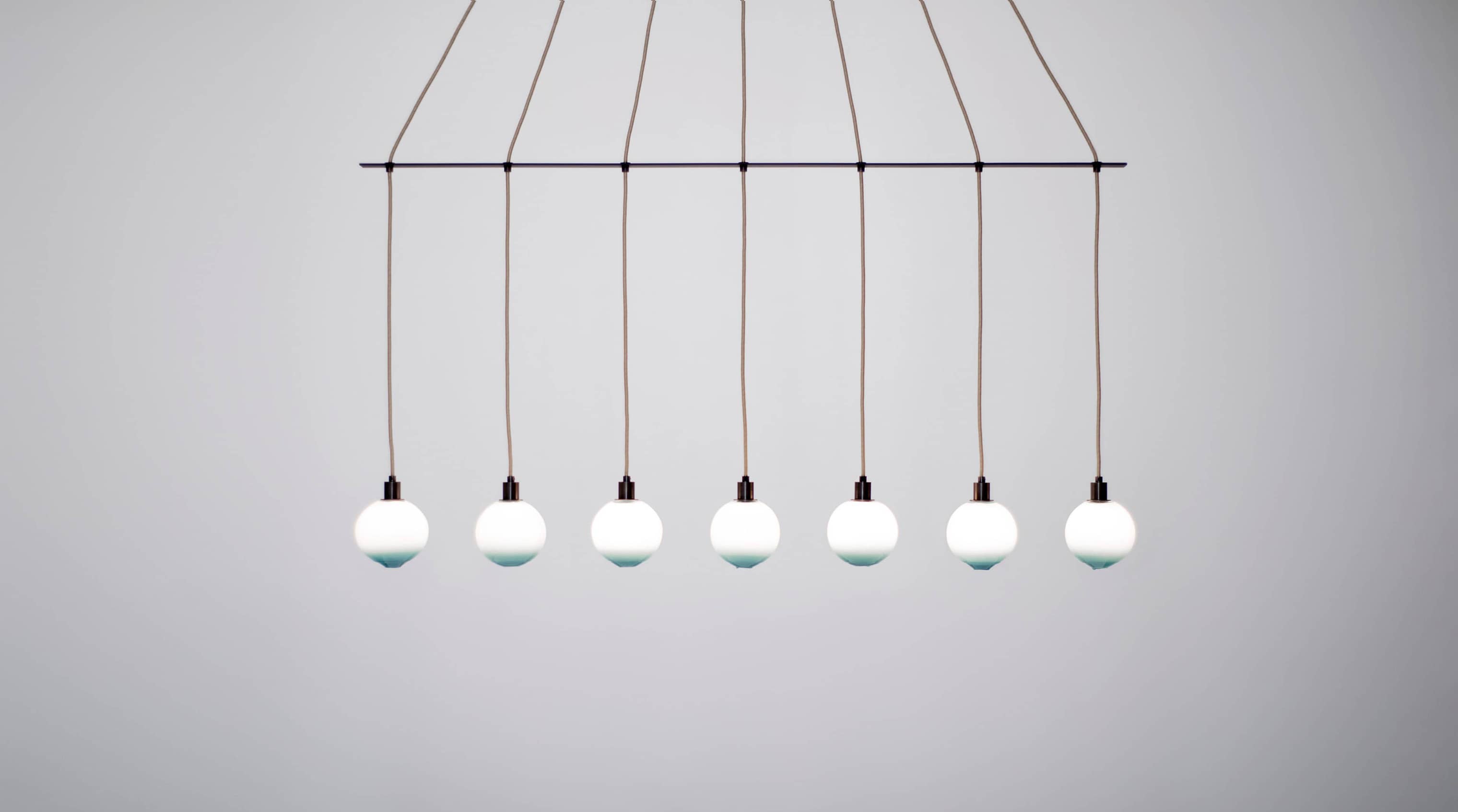 Karen and Paul had opened Gallery Lulo in Healdsburg earlier that year. Pavel had built a company based in Healdsburg, working with the glassblowing tradition in his native Czech Republic, importing and selling the work in all over the globe, and was searching for a new direction to take with glass. Karen and Paul had long sought a venue in which to collaborate as designers. The three met through the gallery, and over time the idea of working together began to develop. Along with metalsmithing, Karen studied glass at the California College of Arts in San Francisco.
In the early 1990s, she moved to Seattle, where she enmeshed herself into the vibrant American studio glassblowing scene there, studying at Pilchuck, and constantly integrating glass in all its forms into her metal work as a studio jeweler. It was precisely this deep understanding of glass which drew Karen and Paul to the idea of working as designers with the Czech glassblowing tradition. At the same time, in Pavel's eyes, Karen's intuitive understanding of glass and the process of glassblowing, made her and Paul effective glass designers and potential partners.
The idea that took shape encompassed an entirely new venture and concept all its own. A collection of lights and accessories designed by Karen and Paul, and a business which celebrated the Czech glass tradition, working exclusively within it, yet as designers, standing outside of it. We gave it a new name, "sklo", the Czech word for "glass".
Karen's philosophy about craft defies tradition, putting process and design before technique. This drives SkLO, where celebration of craft and the hand-made good is combined with a focus on materiality and process over form and perfection. Karen and Paul share an interest in restraint, paring back to get to the simplest expression of the thing, yet to do so without sacrificing perhaps the most important consideration – beauty.
Our first question to ourselves is, "What is unique about Czech glassblowing?" We do not try to bend the tradition to our will as designers, but rather try to understand it fully, and allow it to inform our ideas. Czech glass is known for its clarity and amazing color, for the ability of the artisans to blow large forms, for its mass, and its ability to be cut and polished. This dedication to the Czech glass tradition informs the SkLO business structure: Where we produce our work is not driven by cost or bottom-line decisions. It is the ultimate sustainability: The preservation of a true historical craft, hand-made goods produced without expoitation.
Color is a major consideration in the development of the SkLO collections. Glass, as a material, offers an opportunity to express color that is unlike anything else. Yet, restraint again plays a role at SkLO. We choose palettes of colors that have meaning, that tell stories, and break with traditional ideas of what colors are "beautiful". The "plus" sign in our logo is a reminder to ourselves: We are more than just "glass". SkLO is just as much about our point-of-view as designers and makers. Karen's background in metalsmithing makes metal as important to our material palette as glass. We bring metal to the glass, to give structure and scale.
Nowhere is this relationship between metal and glass as important as it is in our lighting designs. Rather than an afterthought, it drives the design process. Our lighting designs seek to achieve a harmony and balance between these two materials, to give beautiful light. We add technology and complexity, but the light must seem natural and effortless. Karen herself fabricates the intial prototypes of almost every lighting design at SkLO, with the act of making taking place simultaneously alongside drawing and sketching. In production, our metals are substantial and solid. Exposed fasteners and expressed joints mark our work. Traditional metalsmithing, custom machining, hand-applied finishes, and a careful attention to detail are the hallmarks of SkLO:LIT.