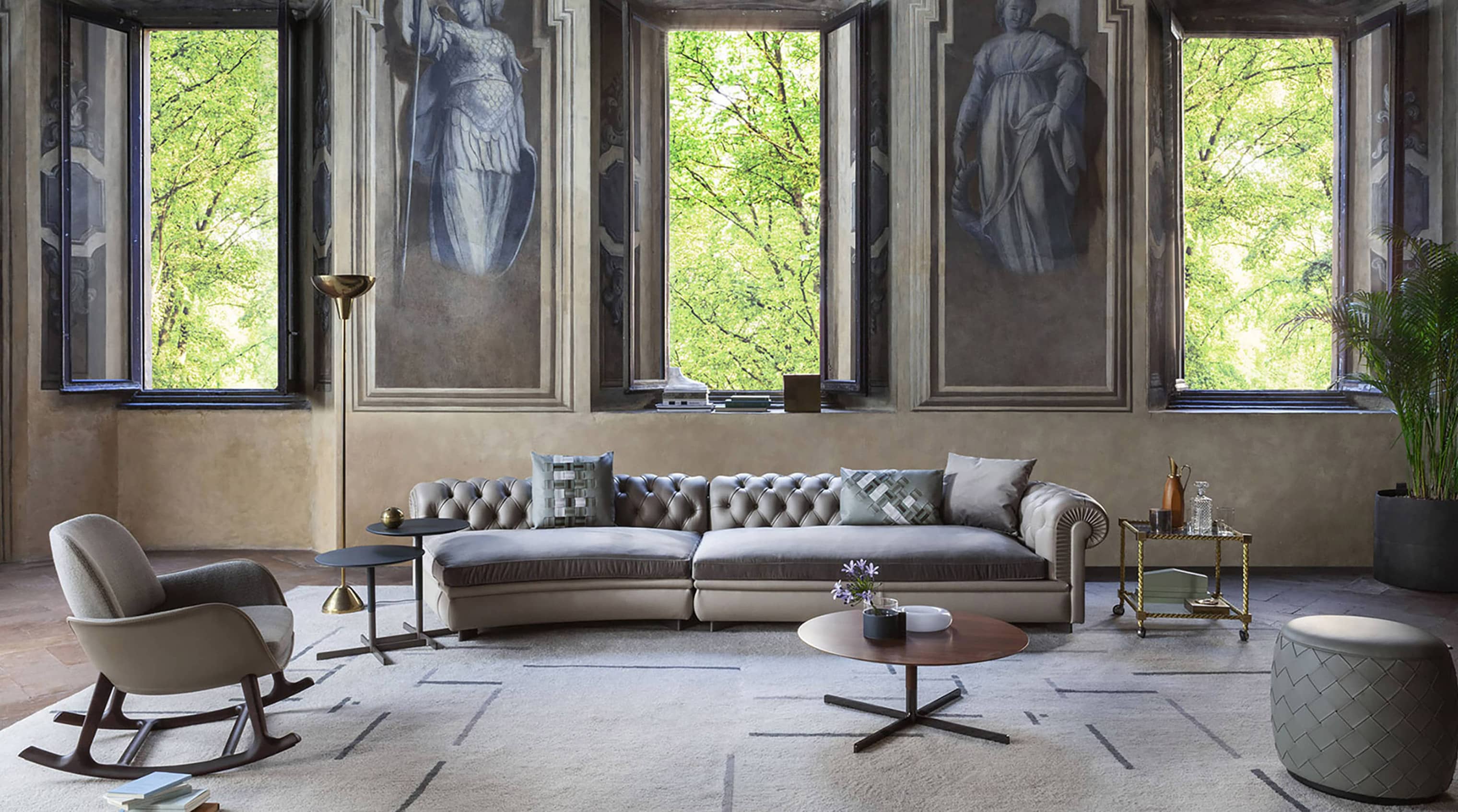 Inquire about "Made In Italy" and contemporary furniture and furnishings and your search must bring you to Poltrona Frau and the showrooms of Arkitektura San Francisco and Arkitektura Detroit (Birmingham, Michigan). Fine Italian luxury products include sofas and armchairs, tables, beds, cabinets, desks and chairs for the home and discriminating executive, accessories and special edition furnishings.
You must also know that Poltrona Frau leather, which covers their beautifully designed sofas and chairs in our showroom, is also presented in the finest BMW, Bugatti, Maserati, Mercedes-Benz, and Lexus automobile interiors. This very special leather was also chosen for the seating in the Walt Disney Concert Hall in Los Angeles. And now Arkitektura enables you to furnish your home most tastefully with this amazing material that pleases both the eye and your touch.
Andrew Fisher, owner of Arkitektura, is pleased to introduce you to Poltrona Frau with their own language:
"Since 1912, the general public has always and immediately associated the name Frau with the idea of quality and design furnishing and seating in particular. A name that is so characteristic and instantly linked to German sounds, but which is, in fact, simply that of the company's founder, Sardinian-born Renzo Frau, who, over time, has successfully taken the 'Made in Italy' style and quality beyond national confines. There have been a great many important moments in the history of Poltrona Frau, and they have all contributed in some way to creating the legend of this company that was founded in Turin and is today a citizen of the world."
"Whether it is the interior of a Bugatti automobile or a sofa or chair in our showroom, your first encounter with Pelle Frau® leather will never be forgotten," explains Andrew Fisher, Arkitektura Owner. "Lagranja, Telemaco, Luciano Pagani & Angelo Perversi, Achille Castiglioni & Michele De lucchi, Lievore – Altherr – Molina, Tito Agnoli, Isicio Ruiz Albusac, and Emilio Ambasz are among the more than eighty designers associated with Poltrona Frau. When in Italy, you must also visit the Poltrona Frau museum in Tolentino to see one hundred years of Italian design at its finest."
The legend of Poltrona Frau was created as the firm grew by being open to the work of the best stylists as they continuously explore how to live well in everyday spaces in the home and outside. By offering the workplace the same expressive intensity found in furnishings made by the most prestigious manufacturers, the company brings the highest levels of taste and quality to the workplace.
Research and innovation uncover the very best that nature and human ingenuity offer in wood, metal and to the advancement of their exclusive Pelle Frau® leather. Craftsmanship and science meet around wonderful new applications of materials, such as aluminum, foams, composites, MDF, titanium and carbon fiber. At Poltrona Frau each and every element receives the same "handmade" feel that is the result of their care and passion.
To these exquisite materials, Poltrona Frau brings the best in manufacturing processes. Their work evolves to keep the leather ever current and differentiated by capturing its original, natural softness, warmth and tactile sensations. At the same time, the shapes covered by its leather are constantly rethought and reworked to entice those with elevated tastes and to meet new customer demands with work that pleases all of the human senses and represents the highest international standards of contemporary furniture.