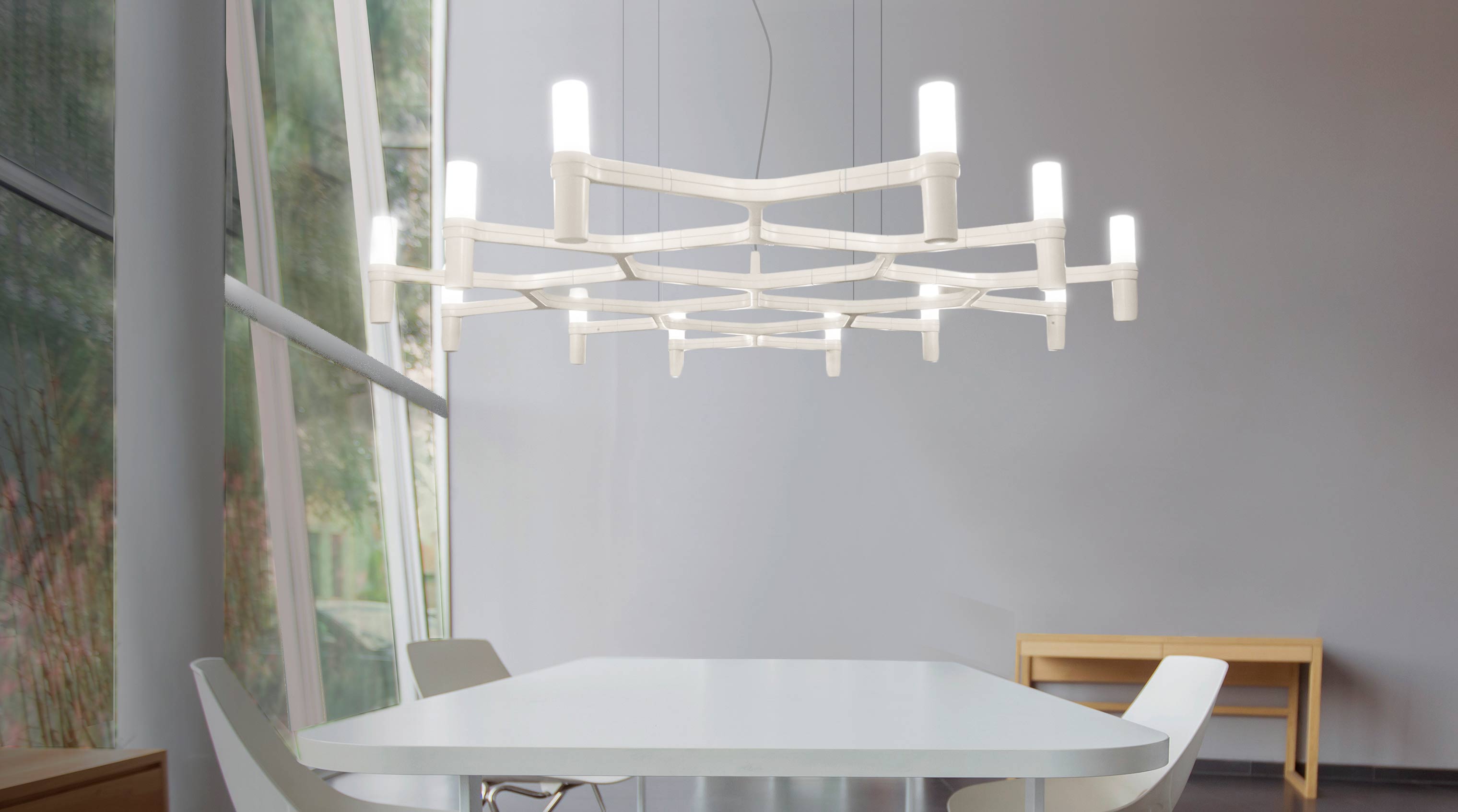 Taking leadership in energy conservation as well as luminaire designs, Nemo pays particular attention to fluorescent lamps and to innovative integration of LEDs of the latest generation. The portfolio of Nemo collection includes suspension, table, floor, ceiling, and wall lamps as well as unique designs. From the luxury profile of the latest creation by Foster+Partners, passing through the "CLASSICI" collection launched in 2008 with the "Albini" range, Nemo modern lightings designs surpass any trend to offer lighting that are timeless.
Nemo's lighting creativity and manufacturing ingenuity have been rewarded with rapid growth. In 1998, Nemo acquired Italiana Luce, a manufacturer of several classic products, including Dove and Logo by Barbaglia and Colombo, and Jazz by Porsche Design.
With the acquisition of Meltemi in 2001, Nemo added the capability of blown glass lamps originally created for the hospitality industry. A year later, Nemo added the Experiences company, a producer of lighting appliances in the US.
The year 2008 was filled with creative activity. Nemo merged with its parent company to become the lighting division of Cassina S.p.A. With expanded resources, Nemo then purchases the historical Sirrah collection from iGuzzini – Italy, and the CLASSICI" collection is born of Franco Albini's creations.
Since the, Nemo has demonstrated a burst of lighting creativity. A second series of the "CLASSICI" collection, designed by Kazuhide Takahama, was added in 2009. Nemo then appeared at the "Euroluce" lighting fair in Milan with ten new products. In 2010 the exclusive "Escargot" lamp by Le Corbusier as a special limited edition and several other "CLASSICI" were added to the portfolio, along with the innovative "Uma" and "Giò" pendant lamps also appearing in the catalog.
At Euroluce in 2011, Nemo Cassina Lighting enthralled the Milan event with the excellent new designs by Javier Mariscal and Agatha Ruiz de la Prada while expanding the concept of "CLASSICI" with designs of Man Ray and Charlotte Perriand.
"The close collaboration with internationally famous architects, such as Mario Barbaglia, Carlo Colombo, Giancarlo Fassina, Carlo Forcolini, Markus Jehs e Jürgen Laub, Vico Magistretti, Stefano Marcato, Ilaria Marelli, Ikaru Mori, Karim Rashid, the London-based Foster+Partners and Hannes Wettstein to quote just a few, make Nemo products unique in terms of design and performance," observes the owner of the Arkitektura Consortium in San Francisco and Birmingham, Michigan. "A visit to the Arkitektura showrooms will reveal Nemo's ongoing search for perfection in technology and quality."