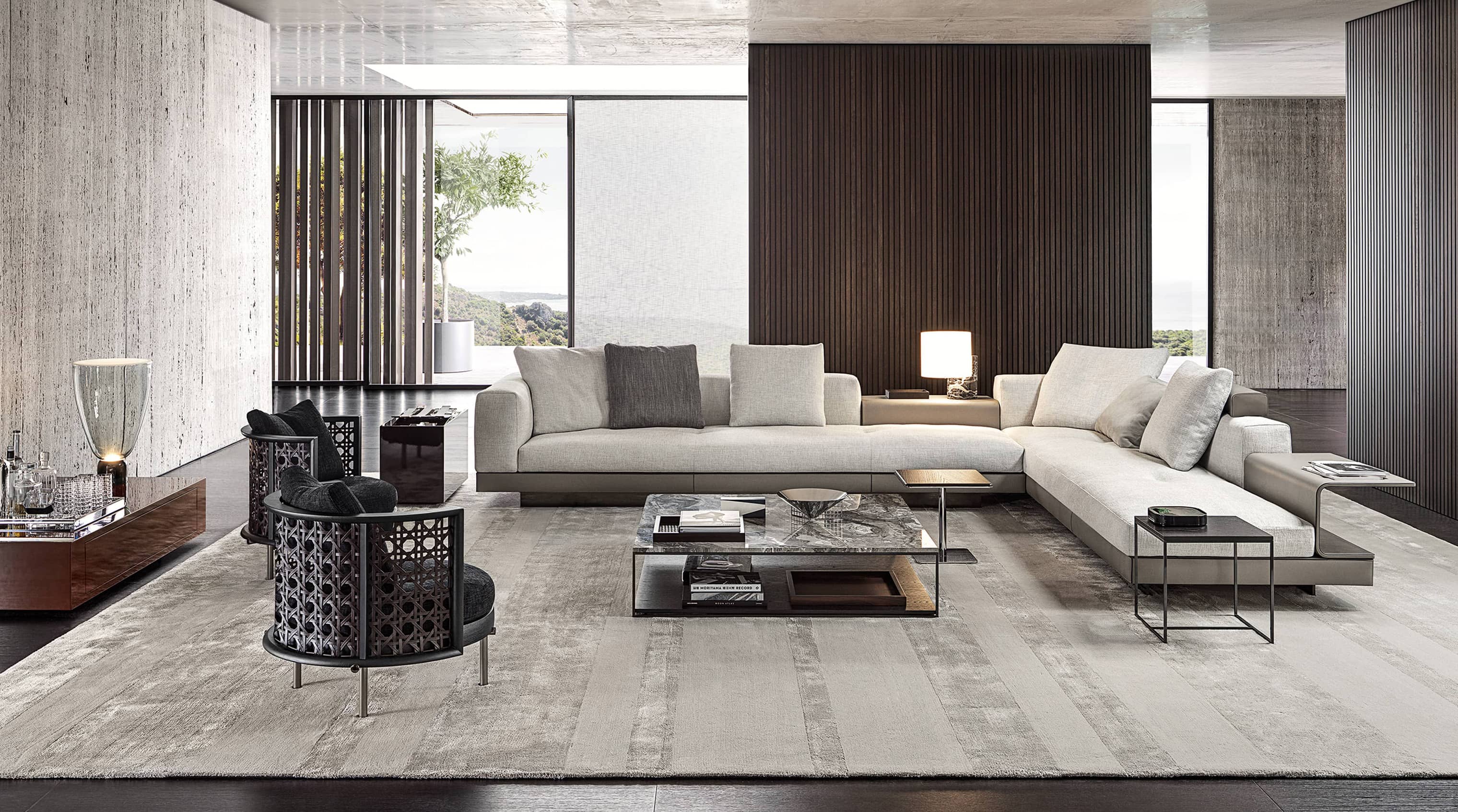 Founded by Alberto Minotti in the 1950s, the company's long craft history is matched with the state-of-the-art working machines that produce high-precision, mechanized cutting of the finest materials. Minotti's trained artisans are renowned for remarkable sensitivity and unparalleled expertise in refining details, approaching sofas, couches, chairs and other pieces, as finely tailored products. The Minotti approach results in unique, one-of-a-kind, fine-quality, fully Italian-made furniture.
Arkitektura is proud to showcase the Minotti Collection of contemporary furniture in both our San Francisco and Detroit (Birmingham, Michigan) stores. Updated each year at the Milan Trade Fair, the Minotti Collection is world renown for its distinctive aesthetic in sectional sofas and modern home furnishings and décor.
In their own words, "Minotti was and still is the benchmark for refined people who feel at ease everywhere in the world, although they could never give up the links with their own origins, with their own roots, with a certain way of approaching and enjoying their homes."
Succeeding the founder, the Minotti brothers Renato and Roberto achieved an internationally recognized brand of the finest furniture collections. Since 1997, these modern furniture designs have coordinated their creative line stylistic characteristics and aesthetic principles with the architect Rodolfo Dordoni.
"Arkitektura San Francisco and Arkitektura Birmingham, Michigan is an Authorized Dealer for the Minotti Collection of modern furniture designed and made exclusively in Italy. Minotti's superb products include sectsofas, couches, chairs, tables, lamps, bookcases, beds, rugs, carpets, and other fine home décor." Andrew Fisher owner.
Many discriminating connoisseurs are drawn to Minotti for its textiles. There are fabric and leather collections every year that adopt sophisticated textures and first-rate yarns. These are produced with charming glossy/matt effects and structured wefts, specially designed by Minotti and exclusively manufactured for the company. Minotti products are the ultimate synthesis of comfort and versatility, lightness and durability. For seating systems and bed collections, Minotti creates a unique collection for the personal taste of anyone who finds mass production unpleasant to the eye and touch.
Italy is a world trendsetter, and has produced some of the greatest furniture designers in the world. To be at the forefront of modern furniture, Minotti studies the world, carefully sensitive to changes in the language, alert to both the evolution and leaps in fashion, design, and the publishing world. Minotti knows its customers have traveled the world and wish to have the best qualities of the world they have seen in their own homes.
Today Minotti is at the forefront of Italian design and every Minotti product is supplied with an Authenticity and Warranty Certificate stating that the product is original and is not a counterfeit. Minotti cautions its customers worldwide not to purchased its product via e-commerce or through any Internet sites but only from its find Authorized Dealers, such as Arkitektura San Francisco or Arkitektura Detroit who deliver the full measure of Minotti's unique design, sales and after-sale services.