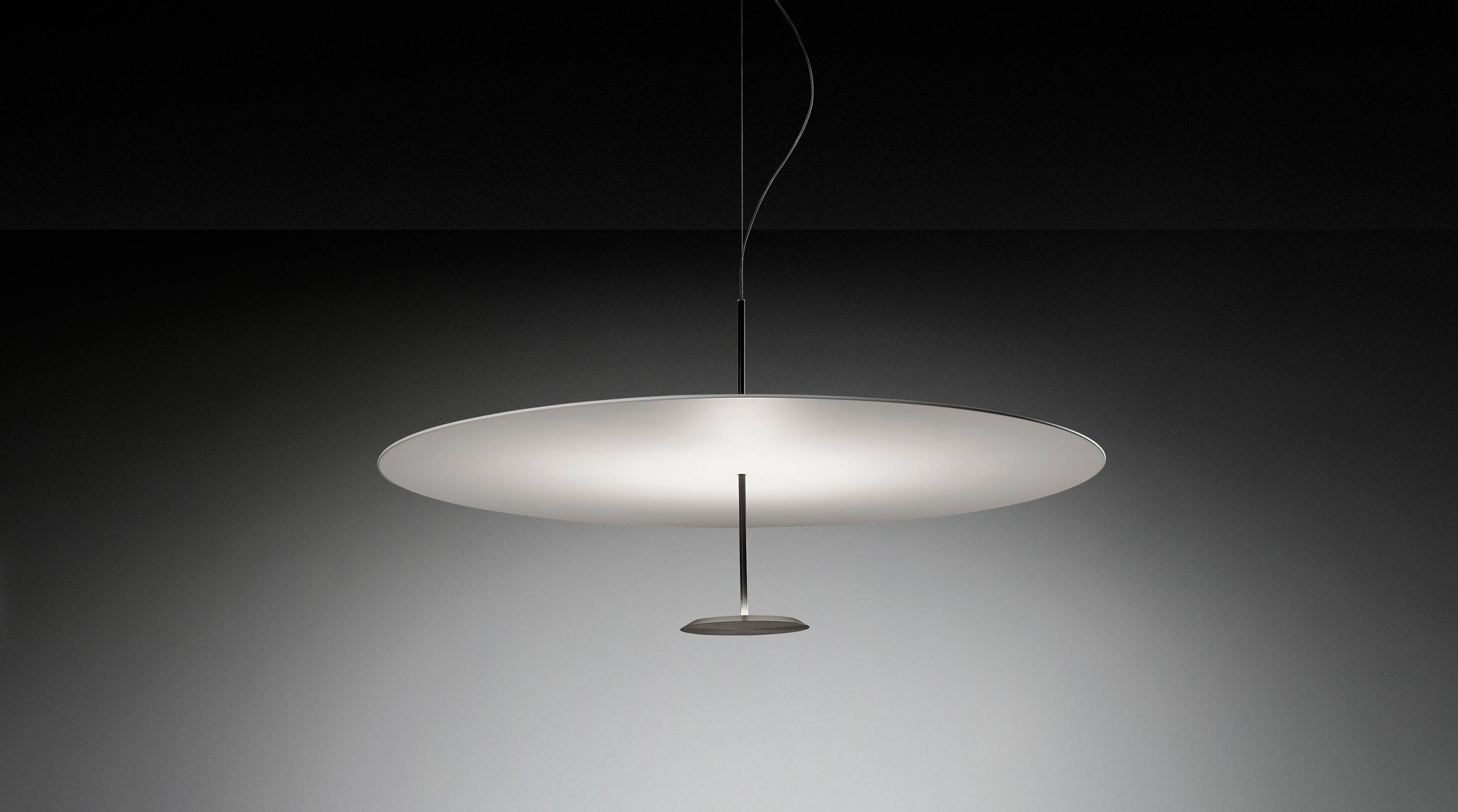 "I try to image the courage of a young Tommaso Cimini venturing into his basement alone after working in the lighting industry for just a few years. Working with makeshift tools, he produces a singularly appealing halogen table lamp that he boldly takes into the market. He calls it Daphine."
Thus does Andrew Fisher, owner of Arkitektura Showrooms of San Francisco and Birmingham, Michigan sum up the creation of not just a great table lamp but also a great Italian lighting company. "Its purity of design charmed the German visitors who first saw this Italian table lamp during the Milan Trade Fair in 1975, and Lumina quickly became a creative and commercial force in contemporary lighting," Fisher notes.
"Daphine, conceived in that basement in 1975, is still a best seller for Lumina thanks to its exceptional functionality and wonderful reliability," Fisher continues. His modern furniture salon, Arkitektura Consortium Showrooms of San Francisco and Birmingham, Michigan, is an official representative of Lumina.
Emboldened by his original success, Cimini designed families of table lamps, floor lamps, ceiling lights and pendants, each inspired by Cimini's philosophy, "A little lamp with a lot of light."
This realization of Italian design soon attracted other brilliant designers to help shape and distinguish Lumina's fast-developing business success, including Yaacov Kaufman, Walter Monici, Studio DDL, Lorenzo Stano, and Emanule Ricci. The quality and reliability of Lumina lighting attracted loyal customers from Switzerland and Germany, requiring Lumina to double its manufacturing center within just a few years of its founding and then soon after double it again.
"Typical of the finest Italian furniture and lighting designers, Lumina capitalizes continuous research into techniques and design while sustaining its impressive reliability and customer satisfaction," notes the owner of Arkitektura Showrooms.
"Our San Francisco and Birmingham, Michigan customers soon begin to appreciate the quality and customer service Lumina delivers by co-locating its design and manufacturing centers within the company. As to external suppliers, even the varnish coating of these Italian table lamps, floor lamps, ceiling lights and pendants is carried out by a subcontractor that is controlled by Lumina's owners," Fisher continues. "For Lumina, quality is assured by total control of the process."
In the second decade of the 21st century, Lumina began to collaborate with Foster+Partners under the direction of Tommaso's sons, Ettore and Andrea, that places the latest dimmable LED lights in settings of fine modern design.
"Lumina has always cultivated the interest and special requests of architects, interior designers and private collectors," the owner of Arkitektura Showrooms explains. "We have established our salons on San Francisco and Birmingham, Michigan to help these discerning customers evaluate the portfolio of Lumina table and floor lamps, ceiling lights and pendants in the context of the almost sixty modern furniture and lighting brands we carry."
Lumina has garnered a long list of impressive international design awards, including La Triennale – Milano, Musee Des Arts Decoratifs – Paris, Die Neue Sammlung – Munich, The Brooklyn Museum – New York, Judd Foundation – New York, and The Israel Museum – Jerusalem.
Designer products from Lumina include the beautiful and desirable Italian table lamps known as Cloe and Daphine by Tommaso Cimini, FLO Bedside and FLO Desk by Foster+Partners, Liz And Multi X by Yaacov Kaufman, Ra by Ettore Cimini, andTangram by Walter Monici.
While visiting Arkitektura Consortium Showrooms in San Francisco or Birmingham, Michigan, you may wish inquire about certain Lumina floor lamps, including Daphine Terra and Elle by Tommaso Cimini, FLO Floor and FLO Lounge by Foster+Partners, Naomi Terra by Yaacov Kaufman, Tangram Terra by Walter Monici, and Zeta by Giuseppe Linardi.
Designer and architect Walter Monici summed up Lumina's product attributes this way: "Beauty is a necessity of the mind…. Design is a consequence not the purpose of a natural free-born, good idea or intuition. Preconceived rules must not pervert the nature of such an intuition, which must be supported by aesthetics expressions to enhance its usefulness, its special features and functions."