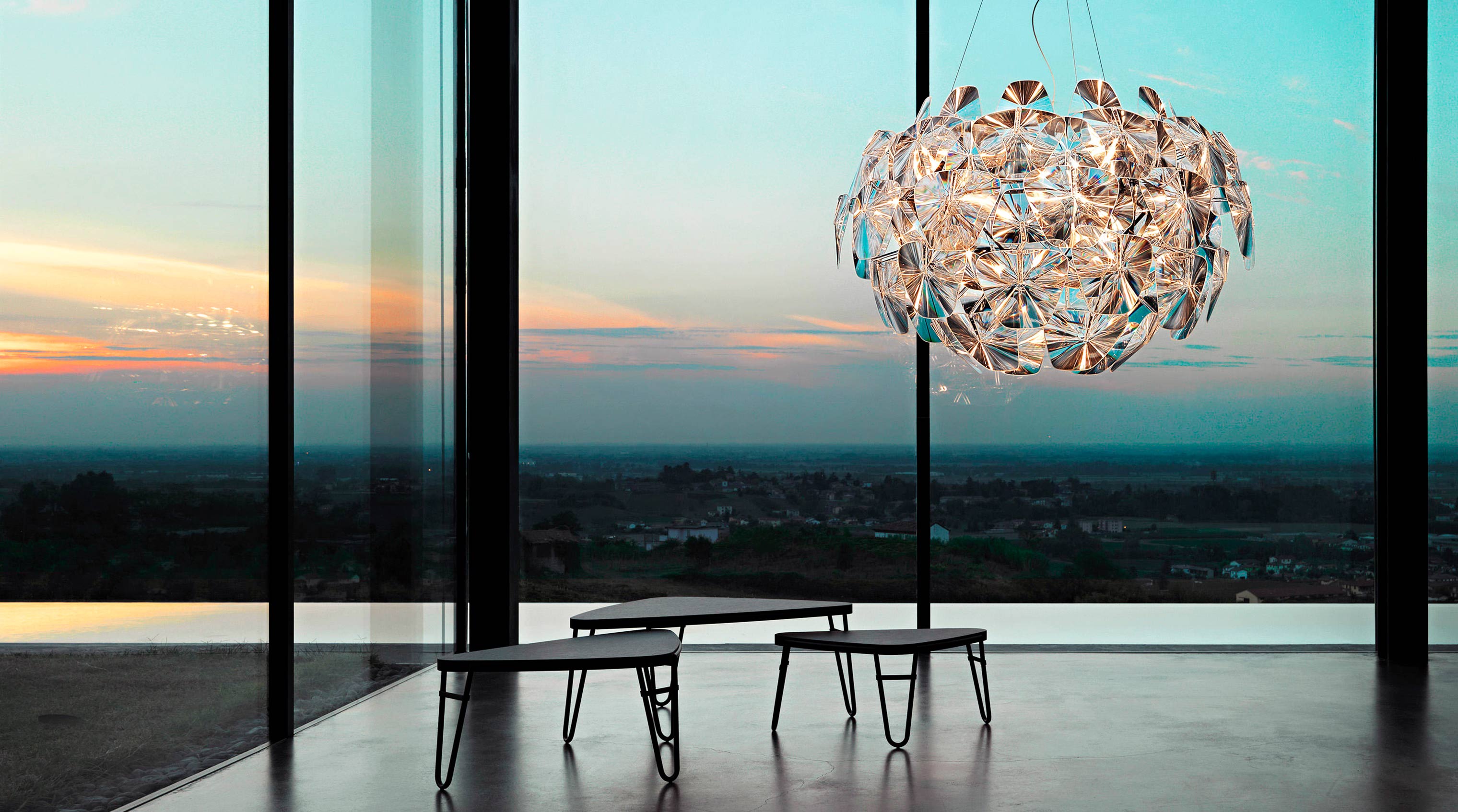 "A series of thin polycarbonate Fresnel lenses, created using imprinted microprisms on polycarbonate film to achieve a dioptric effect similar to glass (without any limitations in terms of space, thickness and weight), multiply the light from the light source, recreating a pleasant, glittery and party-like atmosphere, sprinkled with thousands of shards of light like the diamond which inspired the name: Hope."
Thus reads the technical description of Hope, modern lighting by Francisco Gomez Paz and Paolo Rizzatto in 2009, an iconic example of the brilliant modern lighting from Luceplan and retailed by the Arkitektura Showrooms of San Francisco and Birmingham, Michigan near Detroit. Within its showrooms, Arkitektura offers interior designers an array of creative lamps, and lighting fixtures. Lighting by Luceplan includes technical lighting, table, floor, ceiling/wall, suspension, outdoor and indoor lamps and fixtures.
"Incredibly light and easy to assemble, Hope represents the magic of traditional lamps, reinterpreting them with sophisticated technologies and contemporary materials," summarizes Andrew Fisher, owner of Arkitektura Showrooms one of the US's center's of expertise on modern furniture, Italian design, and modern lighting. "The magic of Luceplan's Hope light is the result of brilliant project and manufacturing process and has been designed to work with the latest generation of lower energy bulbs as well as traditional light sources," Fisher continues.
The passion for design and entrepreneurial courage in lighting has carried Luceplan through several phases of impressive growth, resulting in Luceplan becoming a part of the Philips Lighting Consumer Luminaires in 2010.
Innovated for homes and workplaces, the Happy Happy modern lighting design by Jan Ejhed and Aleksandra Stratimirovic in 2003 lends a vivacious touch even to the most austere environments. Dazzle-free, Happy Happy offers a choice of an opaline white diffuser screen for a well-spread luminosity, or with a dark-light aluminum grille to generate a direct and more technical light. Its bulbs are the latest generation of T5 fluorescents (in three tones), powered with electronic ballast, or conventional T8s powered with electromechanical ballast to produce low-consumption luminous efficiency and quality. True to the Luceplan philosophy, Happy Happy is made of polyethylene, one of the most highly recyclable plastics available for modern lighting on the market today.
Luceplan's GlassGlass, a modern lighting fixture designed by Paolo Rizzatto in 1998, offers blown glass diffuser bodies that combined the ancient glass blowing craft with modern serial production.
With GlassGlass, lighting scenarios and different atmospheres can be created to match everyday situations. The blown glass diffuser bodies are "originals" because, although made within a modern cycle of serial production, the ancient blowing process craft is maintained, as it was in Syria and later in the Roman Empire in 100 BC. The light can be clamped both to the ceiling and to the wall. The attachment rosette comprises a rigid arm that allows the diffuser to be distanced from the wall.
"Luceplan's GlassGlass makes it possible simply to interchange its glass units chosen from a wide range of forms, colors and transparencies to satisfy the most diverse and personal needs," notes Andrew Fisher, who invites professional interior designers and architects, as well as private customers, to better understand the creative potential to illuminate creative design offered by Luceplan by visiting the Arkitektura Showrooms in San Francisco and Birmingham, Michigan.