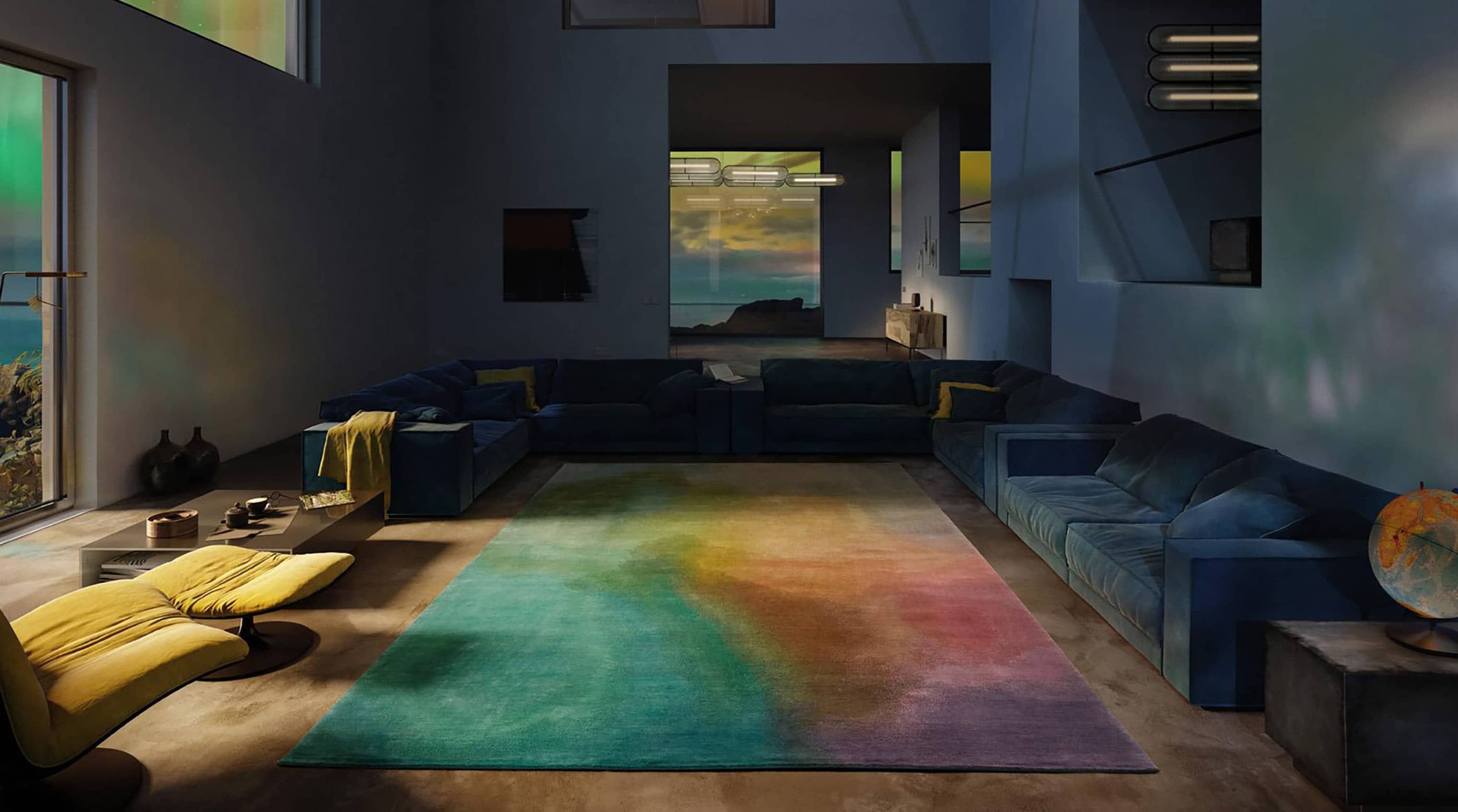 "No surprise then that these rugs and carpets designed for floor and wall are also in demand with young professionals who wish to experience the warmth and beauty that was once the province of Arabian royalty," Fisher adds. He knows this from personal experience. The Arkitektura Showrooms of San Francisco and Birmingham, Michigan are authorized representatives of Jan Kath carpets, each site representing a perfect venue for a Jan Kath review by architects, interior designers and private collectors. "Nobody feels really comfortable in clinically styled apartments with highly polished concrete floors," Fisher says. "People want rich carpet or rugs on their floors and walls."
There was a time when customers sought a "Bidjar," "Afghan," "Buchara," or "Keshan" or another carpet representative of a particular region. But the highly influential Jan Kath Design has changed all of that. "Our customers no longer search piles of carpet until they see what they like. Today, people ask for a certain designer, knowing the individual signature of the work is what they hold most dear," explains the owner of the Arkitektura Consortium Showrooms. "As representatives of Jan Kath Design, we are set up to support that completely."
A revered Jan Kath rug or carpet is made from Tibetan Highland wool—no better quality wool is to be found anywhere in the world—and offered in super 80 and 100 knot configurations. To understand why even Middle Eastern royalty today buy rugs and carpets from Jan Kath is to acknowledge the organizational as well as design genius of this German design firm. To quote from the Jan Kath web site:
"The carpets are hand-woven in the Himalayas in Agra, the ancient Mogul capital in India or in the Atlas mountains of Morocco in line with centuries-old traditions and at manufacturing sites that are often still run as small family businesses. There are between 100 and 450 knots in every square inch of carpet (2.54 square centimeters). It takes three to four months to weave a carpet measuring 2.5 × 3 meters. For the collections made in Asia, the basic material is Tibetan highland wool, which is of the highest grade and has the most robust quality available. Shepherds use yaks to bring the wool from the mountains to the base station, where it is washed in the river before being culled (combed) and spun by hand. Only ecologically tested dyes that are purely natural or specially produced in Switzerland are used in the dyeing process. In addition to the wool, the finest Chinese silk and yarn from stinging-nettle fibers help create appealing reflections and an exceptional haptic experience. One-of-a-kind natural materials in combination with manual production techniques lend each carpet its own particular character, making it a unique piece."
By contrast, a Jan Kath tufted carpet may be produced much sooner. For example, in 2011, Prince Albert II of Monaco and his new bride Charlène walked up the aisle atop a hand-tufted carpet with a fine white silk border before a television audience of 30 million. The 103-meter-long red Jan Kath carpet, weighing 1.3 tons, had been produced in Thailand in just two months. A hand-woven carpet of this size would have taken at least three years.
"Of special importance to architects, interior designers and private collectors, Jan Kath carpets and rugs can be made to order," explains Andrew Fisher, owner of the Arkitektura Showrooms of San Francisco and Birmingham, Michigan north of Detroit. "Beyond size, format and materials, Jan Kath carpets and rugs may be chosen from the materials desired, including yarn, wool, silk and stinging nettles also from a choice of over 1,200 colors."
"I adore these different forms of expression, and I have made it my mission to keep them alive…" explains Jan Kath. "Our carpets are an organic dotting of the 'i' – islands of well-being with a healing effect in cool interiors – without destroying the overall style."