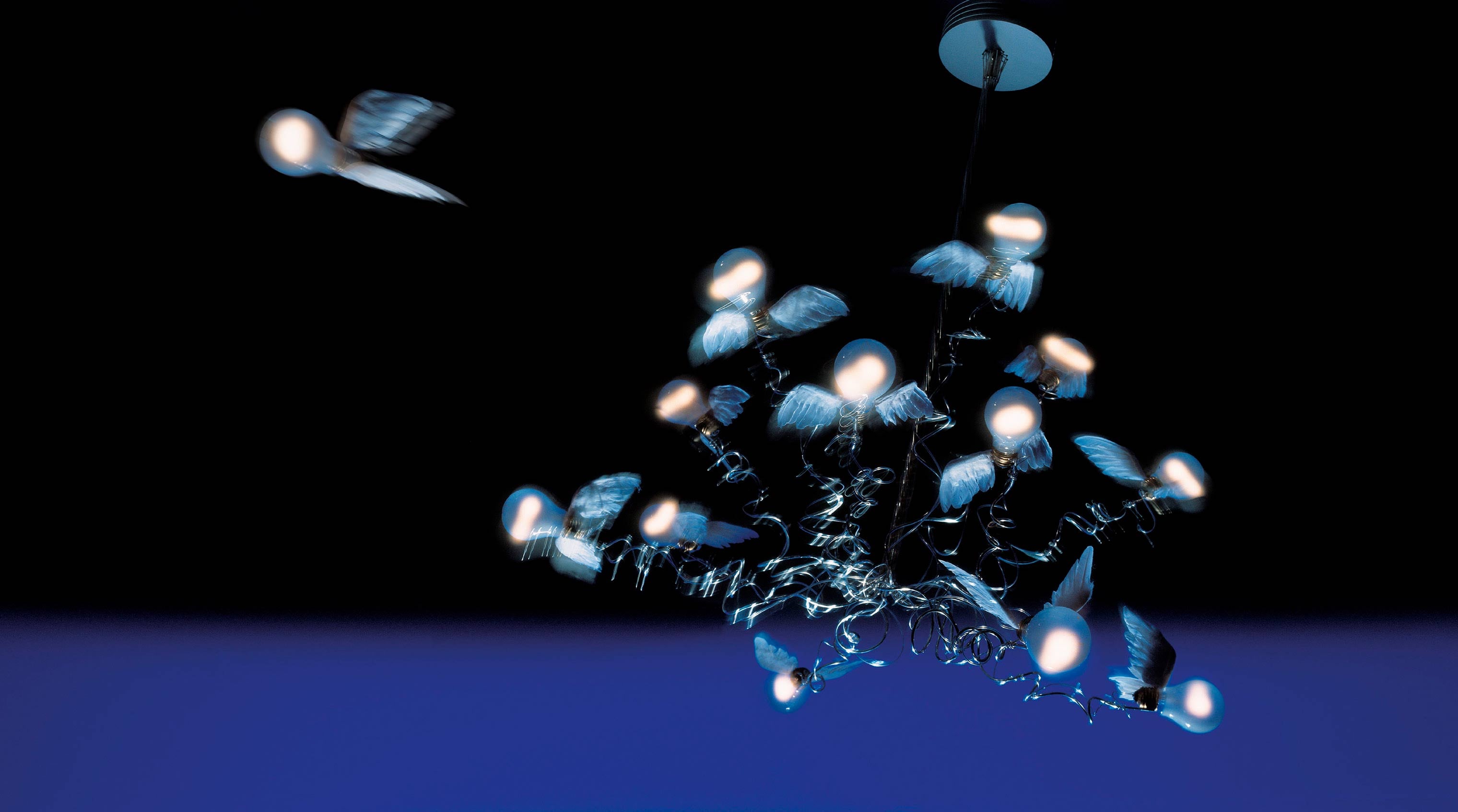 Ingo-Maurer uses its showroom to express continuous change and to provide unique settings for its designer lights. As an example in their own words: "In summer 2011, Hagen Sczech, Sebastian Utermöhlen and other team members set up a Styrofoam workshop to create a surreal living room landscape. For hours and hours of meticulous work, they cut and sanded furniture and details like spaghetti, Japanese cooking knives and a camera. We presented the finished work on September 15, 2011, at the party to celebrate the Compasso d'Oro Ingo Maurer received in 2011 for his body of work. As with most of our products, it is the manual work that matters in making really exceptional pieces that work as lamps yet often have the appearance of sculptural work."
With such imagination and diverse range of lighting expressions, Arkitektura of San Francisco is honored to be able to assist any examination of Ingo-Maurer products and to help identify the lighting elements that complete the visions of its customers.
"Ingo-Maruer selected projects and exhibitions for 2012 include What's Cooking:
Marienplatz, Munich," notes Andrew Fisher, owner of Arkitektura of San Francisco. "In addition, there is Light planning for the mezzanine level of subway station. In Beijing, China, there is light planning for The Temple Hotel. Other projects include the planning of outdoor lighting at Yehuda Market, Jerusalem, Israel; A lighting concept for the disused blast furnaces in Esch-Belval, Luxembourg; as well as light planning for a new urban district."
The Ingo-Maurer story is one of fantastic expression and continuous installation followed by a litany of distinguished awards. Among the long list of exhibitions and awards conferred in the 21 Century:
October 2000: Lucky Strike Designer Award 2000 by Raymond Loewy Foundation.
April 2001: Primavera del Disseny 2000, awarded by the City of Barcelona. Exhibition and retrospective
July 2001: Participation in exhibition "Wohnkultur" at the Stadtmuseum in Munich.
November 2002: Prize "Collab's Design Excellence Award" by Philadelphia Museum of Art.
January 2003: Georg Jensen Prize 2002, awarded by The Georg Jensen Prize Committee.
September 2003: "The Fourth Oribe Award", awarded by the Design Academy Division, Gifu Prefecture, Japan.
November 2005: Appointed Royal Designer of Industry by The Royal Society of Arts, London.
June 2006: Conferment of the Degree of Doctor of the Royal
College of Art honoris causa.
September 2006: "The Fifth Abitare Il Tempo" prize, awarded by the Abitare Il Tempo Fair in Verona, Italy.
February 2010: Design Award of the Federal Republic of Germany 2010, presented by the German Federal Ministry of Economics and Technology.
To appreciate this level of creativity in contemporary lighting one must see the Ingo-Maurer pieces, whether for installation in custom offices or in cafes, restaurants or privates spaces. Among Ingo-Maruer's outstanding recent contemporary lights designs as recommended by Arkitektura of San Francisco are:
NATURAL SPONGES
These are 100 % handmade waterproof objects of illuminate beauty and function collected in a sustainable way.
"OH MAN, IT'S A RAY"
A modern chandelier. Inspired by the artist Man Ray. A perfect solution for delicate ceilings. Dimmable. From soft to bright light. Perfect for restaurants, cafés and private places. This lamp is available in various sizes and made with the express permission of the Man Ray Trust. © Man Ray Trust, Paris
SPIRITS FLYING HIGH
One of a kind. From candlelight to ultra-bright. Taking advantage of the beauty of technical elements. Made to order
Schlitz Up
Ingo-Maruer's standard spectacular downlight and available in different dimensions.
ABLAZE
An installation by Ingo-Maurer and Axel Schmid for Interni's Mutant Architecture exhibition at Cortile della Farmacia, Milano 2011, sponsored by ENEL.
Comic Explosion
A unique piece, at La Mania, Warsaw.
XXL Dome Motel One, Berlin.
Golden Ribbon C
A custom-made sculptural object. Manufactured by us for a private lighting project.
Light Cone
The seamless, builtin system is now also available in an LED version. Used for lighting the entrance hall of the Stedelijk Museum s'Hertogenbosch, it's reopening planned
for December 2012.