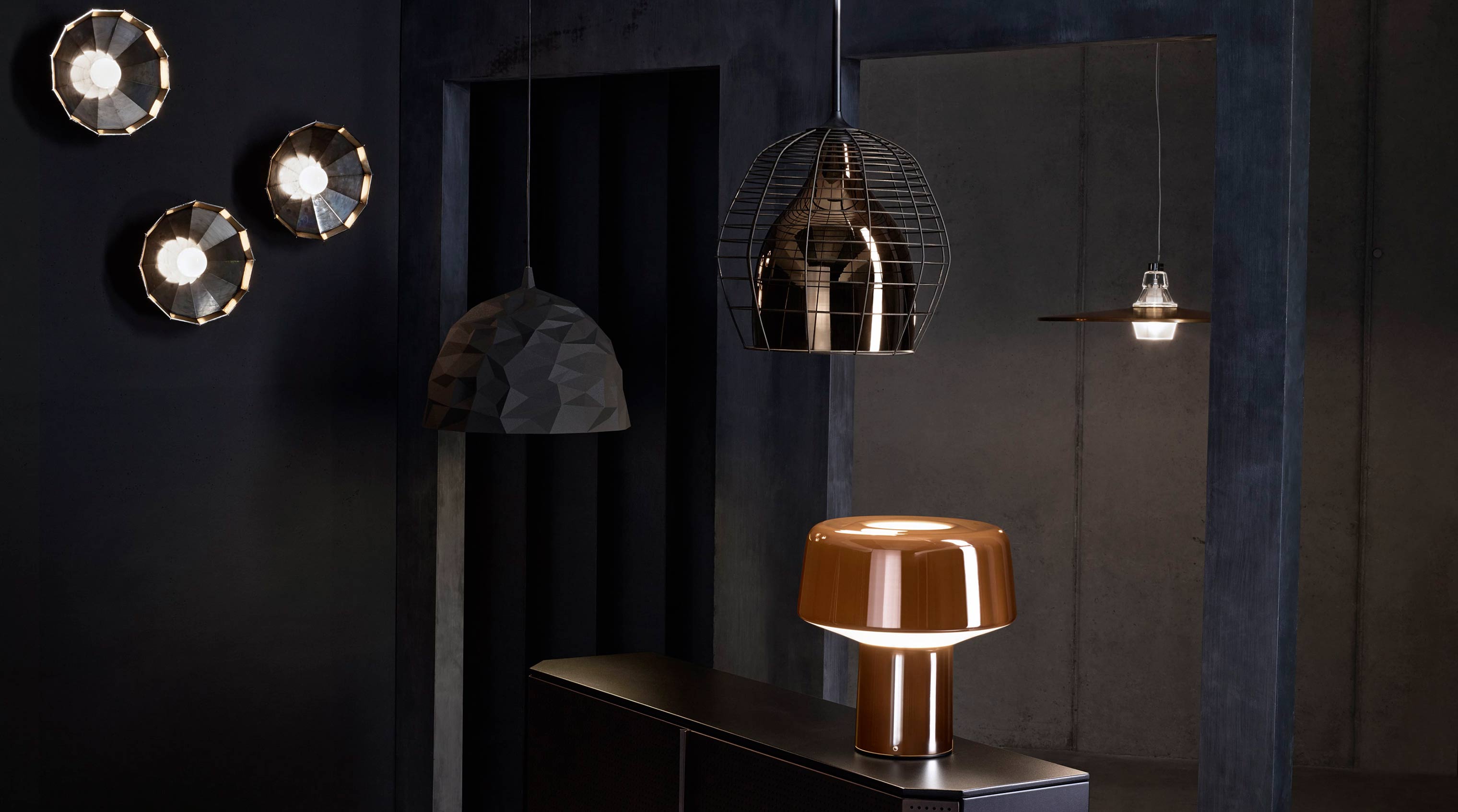 These designers of premium lights have created a wide choice of modern lamps and lighting clusters, each with a strong personality that is the fruit of coherence between design and production. The product line is "a blend of creativity, sturdiness and the ability convey Italian design abroad," as identified by the consulting firm Global Strategy.
In the Foscarini's own words: "A designing and technological tour de force, Foscarini explores an entire world of materials and solutions. Their research (and) experiments (are) free of any mental barriers or technical restraints through flexible, efficient and high quality production, while the sales and logistics organization distributes with equal care all over the world the smallest table lamp to the largest lighting set. Foscarini: a special personality in the world of lighting."
Working with twenty different materials, Foscarini's talent pool has created over fifty lamp and lighting models, each with a unique story and striking beauty. The development of each piece is the result of careful analysis of materials, and free experimentation with shapes, processes to create those shapes, and finished pieces that have evolved well beyond their initial concepts. As such, their uniqueness and innovative presentation enables them to escape the whims of trend and remain true classic prized by their owners.
While visiting Arkitektura in San Francisco, you should reserve time to visit The Fine Arts Museums of San Francisco, comprised of the de Young in Golden Gate Park and the Legion of Honor in Lincoln Park. This is the largest public arts institution in San Francisco," invites Andrew Fisher, Arkitektura Owner. "If it is more convenient to shop for fine Italian lamps in our Detroit showrooms, plan to also visit the world famous Detroit Institute of Art, or DIA as it is locally acclaimed."
At its founding in the early 1980s, an apparent limitation instead provided a significant competitive advantage of this world famous lighting firm. From its inception, unlike other Murano glass lamp manufacturers, it did not have its own furnace. This freedom from the limits of vertical integration enabled Foscarini to discover and select the most suitable suppliers to support its unique and notable lamp designs.
Quoting the company: "This freedom led Carlo Urbinati and Alessandro Vecchiato, first as designers then as the company managers, to experiment with materials and processes other than blown glass. As a result, the collection could flexibly respond to a changing world as new materials and technologies became available."
When Foscarini moved from the island of Murano to Marcon in the mid 1990s, they built a new design and production center but retained this competitive edge to assign a modern Venetian aesthetic with Foscarini's creative corporate spirit. Foscarini continuously examines many new potential lighting products but chooses to produce only those that truly express a new idea.
Foscarini is also renowned as custom lighting and Italian lamps that are achieved by exchanging standard finishes and composition for the desired effect. Arkitektura is delighted to assist our customers in exploring this process for a most satisfying outcome. As a result, our customers benefit from specific solutions for large spaces, achieving illumination by light sculptures with lamps of the highest quality and durability that will be admired for years.
Contact us for more information
We are happy to help you with more information about this brand.
Please contact us for catalogs, specs and pricing.