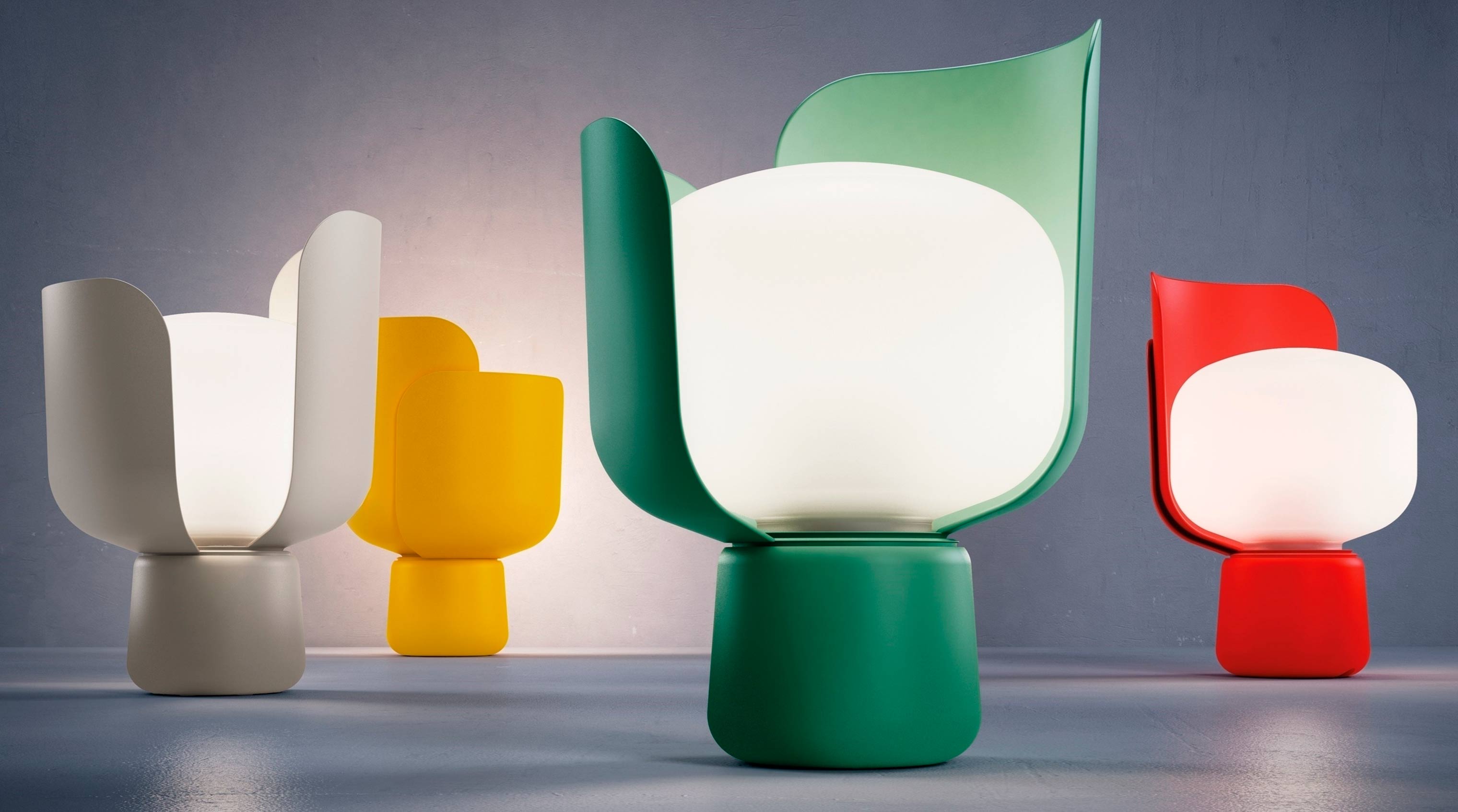 "In the 1920s, Gio Ponti, one of the most important Italian architects, industrial designers, furniture designers, artists, and publishers of the twentieth century, began his serious work in stained glass, installing his craftsmanship in churches and cathedrals, among them the Duomo of Milan and the Cathedral of Brasilia. Ponti soon realized the enormous potential glass had for designing and making furniture and founded FontanaArte in 1932 as an artistic division of the Luigi Fontana Company," notes Andrew Fisher, an authorized dealer for FontanaArte through his Arkitektura modern furniture stores located in San Francisco and Birmingham, Michigan near Detroit.
Using glass as the main distinguishing feature, Ponti began to produce furniture, lamps and other interior furnishings to complement the homes he was designing, rapidly creating a body of work that was ready to be marketed as a collection," the owner of Arkitektura continues.
Brilliant glass design for modern furniture and lamps also flows from the creative minds of Andreas Engesvik, Form Us With Love, Foster + Partners, Future Systems, Gamfratesi, Riccardo Giovanetti, Harry & Camila, Chris Hardy, Steven Holl, Max Ingrand, Studio Klass, Johan Lindstén, Vico Magistretti, Marco Mascetti (Mrsmith Studio), Roberto Menghi, Marco Merendi, Metis Lighting, Matteo Nunziati, Luciano Pagani E Angelo Perversi, Park Associati, Julian Pastorino – Cecilia Suarez, Alessandro Pedretti (Studio Rota & Partners), Gabi Peretto, Dominique Perrault – Gäelle Lauriot-Prévost, Renzo Piano, Gio Ponti, Daniela Puppa, Maurizio Quargnale, Franco Raggi, Piero Russi, Denis Santachiara, Héctor Serrano, Alvaro Siza, Carlo Tamborini, Mika Tolvanen, Paolo Ulian, Voon Wong + Benson Saw, Studio Wurbs, Paolo Zani, Marco Zanuso Jr., Zaven, and Alberto Zecchini.
At present, FontanaArte may be envisioned as offering glass designs from two groups of creative enterprise. The first is from the The FontanaArte archives—a major collection of ideas, of sketches on paper and designs that were drafted in-house and then developed over the years to become part of the FontanaArte collection. These designs are not associated with the name of any single designer, but are the sum of the collective creative energy of the professionals that have worked in the company.
The second is an emerging collection of design work that flows from the distinguished imaginations of FontanaArte designers and evolve into important new designs through FontanaArte's Ufficio Tecnico, a team of architects, engineers and lighting technicians who support the genius of a new lamp design with a high quality production process.
"Sometimes, their work goes that bit further," the owner of Arkitektura of San Francisco and Detroit notes. "At FontanaArte, new lighting designs are conceived inside the Ufficio Tecnico, itself, as was the case for the Chiara table lamp (2003), the outdoor version of Uovo (2008), the Tubo Led hanging lamp (2011), the Cavi Paralleli technical system and the Walled spot light (2010)."
To further appreciate the quality that FontanaArte brings to lighting design and furnishings for homes and offices, two pieces, one revered and one new, that reflect both its traditions and its ongoing innovation are worthy of examination.
The first is a FontanaArte 0024 hanging lamp by founder Gio Ponti, himself. This hanging lamp has celebrated its 80th anniversary, remaining an unfailing and amazing paradox as ever, confirming its enduring fame as an icon of contemporary design. A total of 11 transparent tempered glass discs are stacked horizontally down a tubular light source in sandblasted glass. This diffuser is capped top and bottom by chrome-plated brass, and the same material keeps the discs equidistant within the frame.
The second is a coordinated line of furnishing systems for FontanaArte, using only glass. Knocking on the door of design, Renzo Piano offers a table, with a choice of rectangular or round top; an open-ended bookcase; and console shelving within his Teso Collection. Who says that glass is not as hard as steel?
"In both the San Francisco and Detroit showrooms of Arkitektura, our staff is well informed about the enormous range of FontanaArte design," says owner Andrew Fisher. "We can help the professional architect, designer or private customer discover their preferred innovative light source combined with a brilliant expression of glass tables and other furnishings."