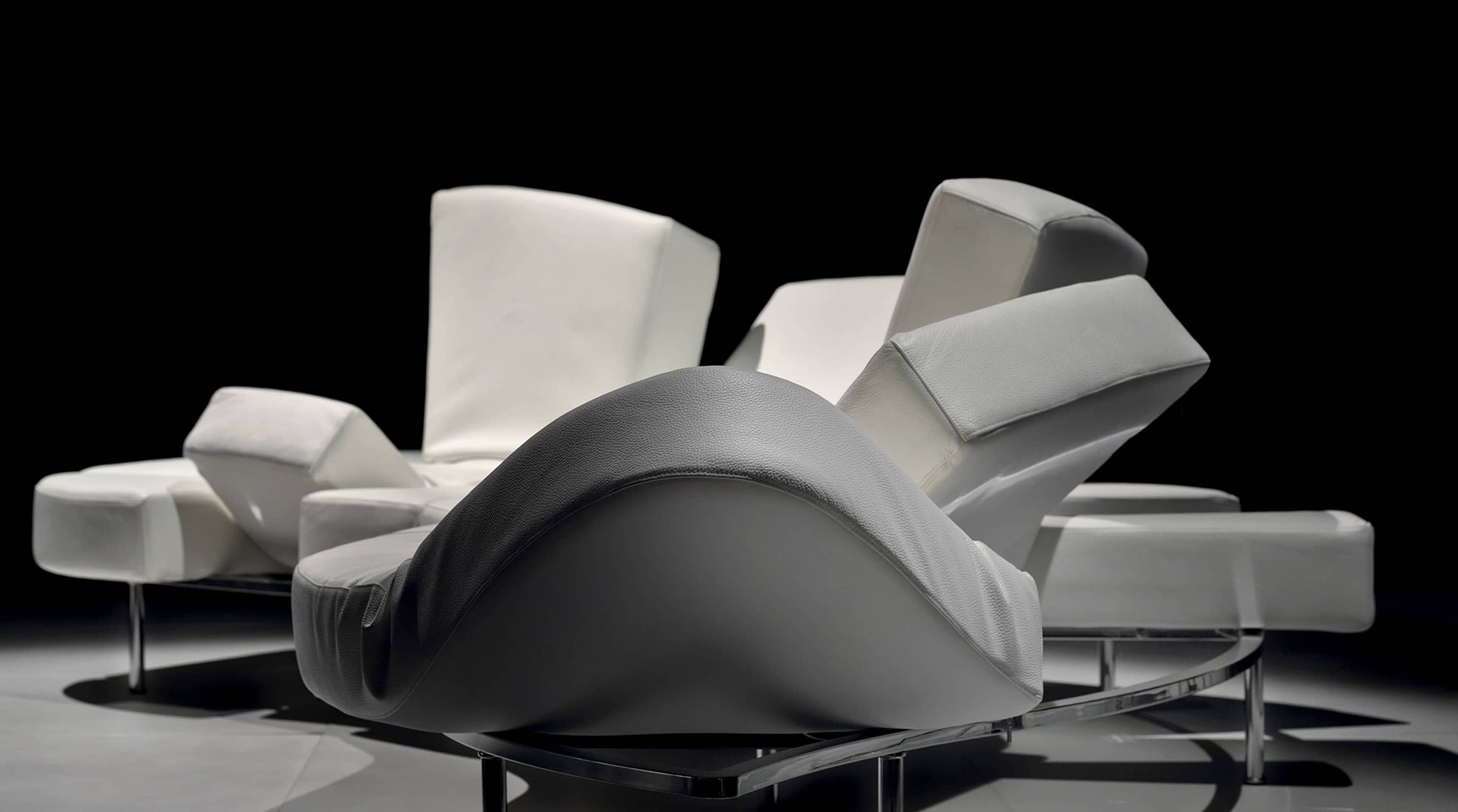 Available only at our Detroit showroom.
It comes as no surprise that the sofa known as "Standard" evolves from the mind of Edra's lead designer, Francesco Binfaré. A metallic structure deeply padded with expanded polyurethane and synthetic wadding, Binfaré's Standard is a sectional series with base sofas and other modular elements that enable the upper parts of the backrest/armrest pillows to recline individually.
"Having served as Director of Centro Cesare Cassina from 1969 to 1975, and then as Art Director of Cassina from 1973 to 1988, Francesco Binfaré began his collaboration with Edra in 1992," reports Andrew Fisher, owner of Arkitektura of San Francisco and Birmingham, Michigan, where Edra furniture is sold. "The modern furniture that sprang from this union began with the sofa L'homme et la femme, HFST, launched at the Galleria Kastern Greve, during the Cologne Furniture Fair in 1993. What followed has been a singular and fascinating period rich with stimuli invention, as seen in the products such as Flap (2000), On the rocks (2004), Corbeille (2006), Sherazade, Sofa (2008), Brenno (2010), Sfatto (2011)," continues Arkitektura's Fisher.
The San Francisco and Birmingham, Michigan stores of Arkitektura are authorized dealers for Edra. Arkitektura's expert staff can guide the professional interior designer and private customer through the home decorating opportunities that Edra represents, including a review of such brilliant modern furniture as "Angels", another sofa by Francesco Binfaré. Introduced to the world in 1996, Angels features organically shaped padded seating, reminiscent of spineless bodies. With its irregular outline and deliberate asymmetry, Angels is a nervy, flawed beauty. Different seating possibilities emerge through simple movements of the seats, backs and pouf/ball. Binfaré's sofa is constructed over a plywood base, it's back in hand-wrought metal, the seating area filled with polyurethane foam. The feet of Angels sofa are in chromed metal with aluminum and rubber scratch-proof tips; the upholstery is mohair velvet.
"Today, when the leading interior designers and architects wish to reunite past, present and future, the modern furniture of Edra feels perfectly at ease," reports Arkitektura of San Francisco's owner. Fisher cites the sofa Edra calls "Boa" for its projection of the past as live archetypal energy, and the future, as creative force. Designed by Fernando and Humberto Campana in 2002, the Boa is softly woven to appear as a large nest that also holds many people – whether lying down, sitting or curled up. It occupants may crawl inside the weave to feel even more protected.
"Francesco Binfaré prefers to design and engineer domestic furniture products and in particular sofas as it involves the Behavior, the Space and Communication," notes Arkitektura's owner. "These are the areas of work that Binfaré loves the most because, more than anything else, they respond to the interrogative of human behavior and of its relationships."
At the Arkitektura stores of San Francisco and Birmingham, Michigan near Detroit, it is possible for professional designers and private customers to study the possibilities offered by Edra Italian furniture products, such as "Alice" designed by Jacopo Foggini in 2011, a rigid outdoor chair in translucent polycarbonate.
"Anemone" is a 2001 design by Fernando and Humberto Campana, an armchair crafted with special hollow tubes in plastic that are hand woven methodically and screw-attached to the corolla-shaped frame lacquered in a metallic grey color. The weave, which may seem random, forms a comfortable and attractive seat.
Although manufactured in serial production, Edra pieces are 'finished by hand' because artisanal know-how and attention to detail are what ensure the highest possible quality.
The materials used are charged with visual, tactile and emotional power. By treating these materials with great respect according to the highest standards of quality and character, Edra achieves new goals meaningful in style.
Whether purchasing its beds, chairs, tables, cabinets, sofas or armchairs, Edra establishes new relations between body and objects by creating shapes and materials for new and exceptionable levels of comfort within brilliant designs that project the company beyond eras and trends.