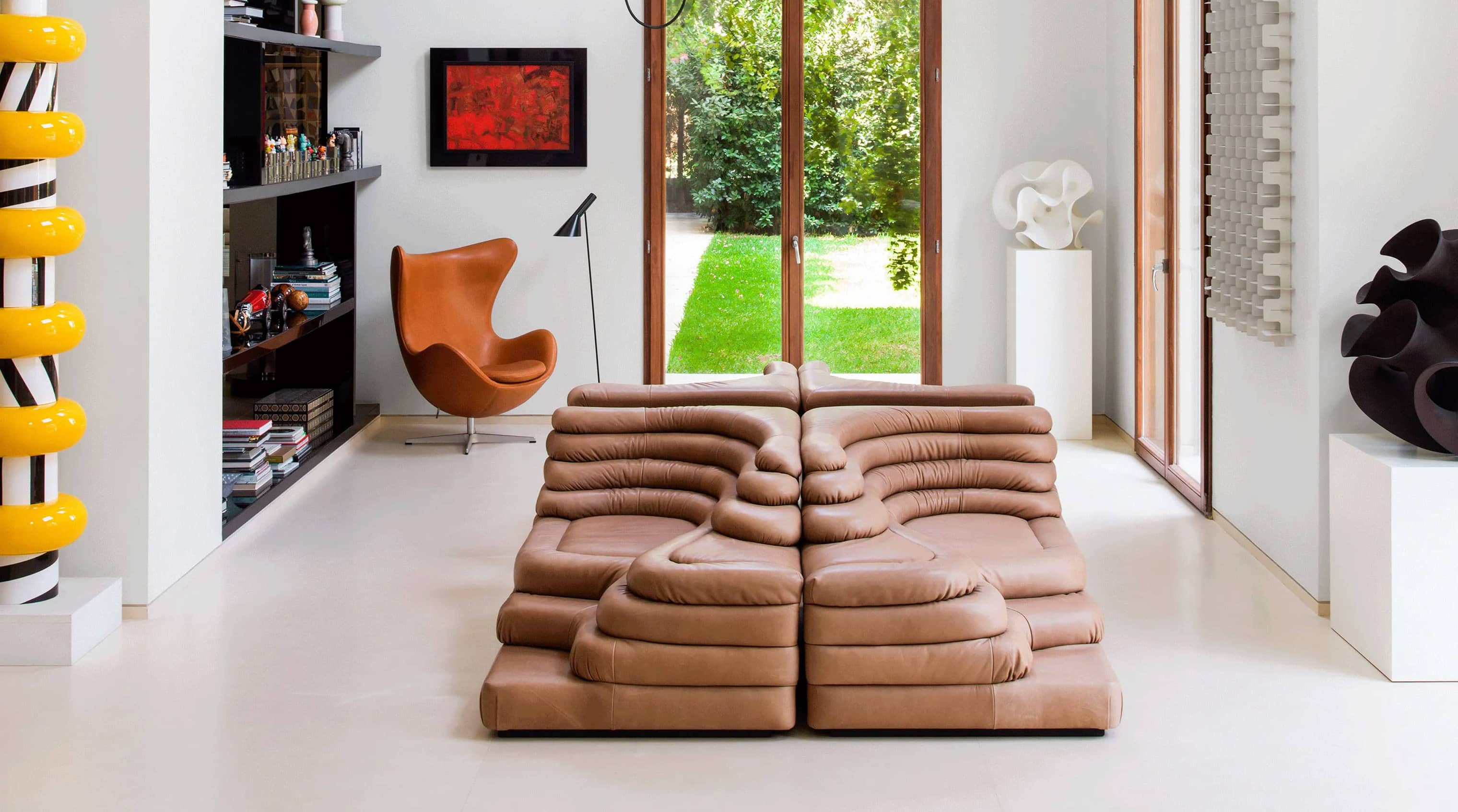 A company producing handcrafted masterpieces, de Sede was once a small saddler's workshop in Swiss Klingnau, close to the German border. The family-run business became de Sede AG in 1965. An expansion of sophisticated designs of sofas in leather and fabric, armchairs, chairs, tables and beds continued the exacting standards of top-quality Swiss workmanship, even as additional manufacturing facilities were opened and the international distribution followed as a consequence of acquisitions of like-minded rivals.
"The product development and design section of de Sede is of core importance, constantly exchanging ideas with both internal and external sources of inspiration," explains Andrew Fisher, an authorized de Sede dealer through his Arkitektura stores in San Francisco and Birmingham, Michigan. "As it has evolved, de Sede maintains a creative team of 15 designers who are dedicated to questions of innovation, new materials, new qualities of leather, new designers, a new understanding what de Sede furniture needs to be to accommodate its customers lifestyle, and how they prefer to design and decorate their living environments. By observing, questioning, reacting to change and always listening attentively, de Sede has been consistently able to set relevant new trends," the owner of Arkitektura says.
The de Sede product portfolio is constantly expanding and today is hallmarked by the concept of multifunctional seating. Every year, de Sede presents its new models at the international furniture shows in Cologne and Milan where it is first seen by the owner of Arkitektura. Fisher feels a responsibility to develop his own staff to be able to guide the professional interior designers and private customers who have long been Arkitektura customers, whether they are visiting his San Francisco or Birmingham, Michigan stores.
For example, developed by deigner Werner Aisslinger in collaboration with de Sede, the DS-143 chair is uncompromising down to the smallest detail. Its streamlined form is the very essence of purity, yet provides an absolute maximum of seating comfort. Angular surfaces achieve a sculptural quality that makes the DS-143 chair an appropriate choice for contemporary living environments and demanding contract projects alike.
"The de Sede philosophy and its Swiss quality execution have won it many projects in premier sites noted for design and good taste," observes the owner of Arkitektura. "These include the Bank Julius Bär of Zurich, Switzerland; BMW in Munich Germany; Hilton Resort & Spa South Ari Atoll, Maledives; Hotel V Victorieplein, Amsterdam, Nederland; The Dolder Grand Hotel Zurich, Switzerland; UBS Opfikon, Switzerland; and the Sky Lounge on a 161′ Motor Yacht," Fisher says.
The DS-48 sofa by designer Gordon Guillaumier is among the highly esteemed modern furniture of de Sede. Its initial impression is of clean and uncluttered design, yet discreetly extravagant details are revealed at second and third glance. Timeless, understated elegant, this modern sofa exudes an air of casual ease that is completely at peace with itself. The quilted stitching that hallmarks the leather of the seat and back surfaces plays self-assuredly with classic convention even as the DS-48 offers sublime seating comfort. This is also more than an eye-catching single piece, but rather a well thought out modern furniture system, including sofa, armchair, stool and chaise lounge. These can be combined, as desired, to create generous seating ensembles or placed separately to powerful effect.
But there is so much more…
"The new bed collection from the house of de Sede celebrates the rediscovery of divine sleep and closely follows in the footsteps of the DS-164 and DS-165 sofas – both of which already enjoy cult status," notes the owner of Arkitektura stores in San Francisco and Birmingham, Michigan. "These de Sede beds bear eloquent witness to how daring design can play delightfully with sensuality to conjure up unique new vistas for the human imagination," Fisher says.