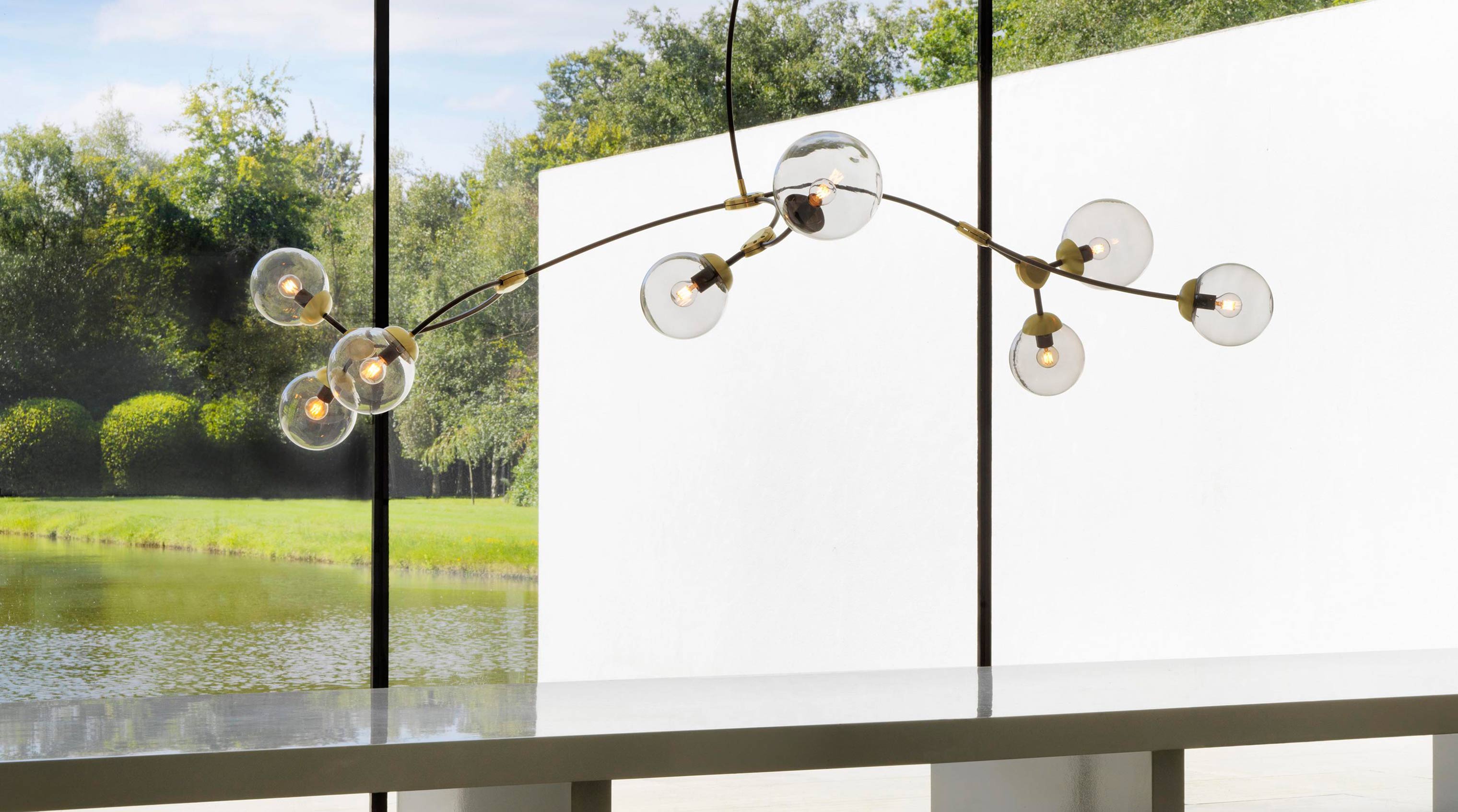 Available only at our San Francisco showroom.
"CTO Lighting is famous for its contemporary floor lamp designs, such as Array cotton, Array opal, Deco Floor, Heron, Metta, Pierre, Trico," counsels modern furniture expert Andrew Fisher. Fisher owns the Arkitektura Showrooms of San Francisco and Birmingham, Michigan. "Much admired table lamps from CTO Lighting include Acropolis, Array, Big Bulb 1979, Bloc, Braque, Deco, Eclipse, Moon, Papillon, Ring, Stella, Zag," Fisher explains. CTO Lighting produces a range of contemporary lighting stock that is updated each year. The company also produces custom designs, during which CTO Lighting designers work with architects and designers on bespoke projects.
"An array of captivating and alluring designs have emerged from this creative and rigorous design process," continues the owner of the Arkitektura Showrooms. "Each year CTO Lighting introduces captivating new floor lamps, table lamps, wall lamps and pendant lighting."
For example, designers Davis and Baron represented CTO Lighting's projects with British Airways to create memorable lighting experiences for Heathrow Airport's Business Lounges. Also on behalf of CTO Lighting, designer Barbara Barry brought new designs to the Savoy Hotel Grill and Banquette restaurant. In addition to the Savory, restaurateur Gordon Ramsay has adopted CTO Lighting Pendants to illuminate his Ginger and La Noisette bars, as well as Petrus and Maze Grill properties.
Other projects light up the St Pancras Renaissance Hotel, various boutique bars to Four Seasons and roll-outs for Next. "Arkitektura Consortium Showrooms is honored to be an official representative of this distinguished lighting manufacturer," Fisher explains. "In addition to work by Barbara Barry, CTO Lighting offers the designs of Phillippe Starck, David Collins, Terence Woodgate, and Kelly Hoppen, plus rising stars such as Atelier Polyhedre, Gitta Geschwendtner, Sam Johnson, Richard Shed and Loris Sensolini, who today are creating wonderful new stocks of contemporary lighting," Fisher says.
CTO Lighting is also an official modern lighting supplier to Hilton International, Harrods, and Wedgwood, prestigious customers indeed for a U.K firm that has only been operating since 1996. All of CTO Lighting products are "manufactured in the UK to exacting standards using the finest components locally sourced wherever possible," the company boasts in its web site.
Andrew Fisher's Arkitektura Showrooms of San Francisco and Birmingham, Michigan represent nearly sixty modern furniture and contemporary lighting brands, providing an ideal forum for review by architects, interior designers and private collectors.
Contact us for more information
We are happy to help you with more information about this brand.
Please contact us for catalogs, specs and pricing.