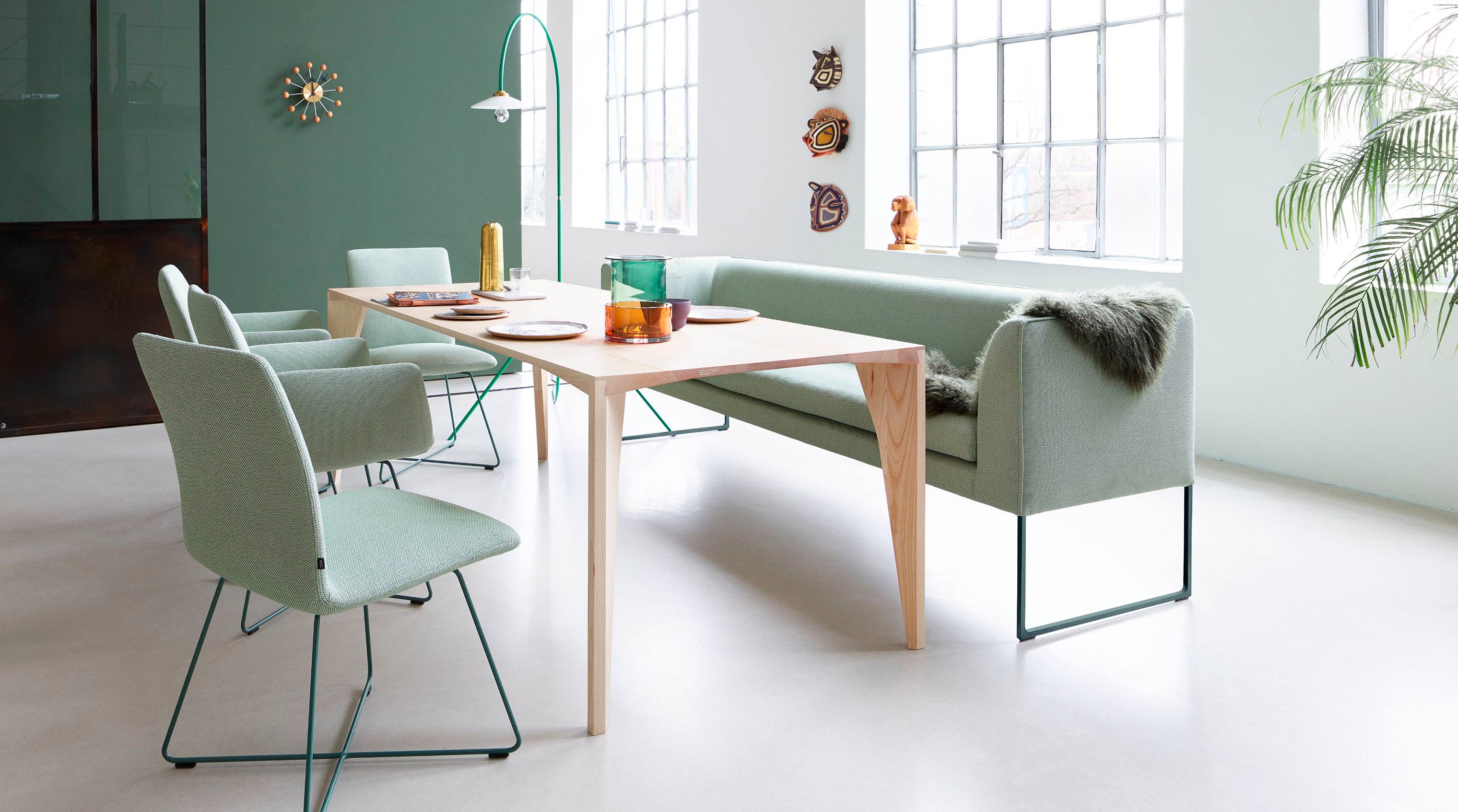 The world's best contemporary furniture is distinguished by three factors. Each of these is considered by Arkitektura of San Francisco in its choice of contemporary furniture brands to represent. It is leadership in all three that define the contemporary furniture from COR as such a valued brand by Arkitektura and its customers from San Francisco to Detroit.
1) The first is design, for which COR is justly famous, the company driven by the eyes and aesthetics of designers A. Kleene & G. Assmann, F. W. Möller, Holger Janke, H. Murken & S. Hansen, Jehs + Laub, Jochen Hoffmann, J. Kressel & I. Schelle, Aurélien Barbry, Christophe Marchand, Jörg Boner, Karsten Weigel, Uwe Fischer, Müller + Wulff, Peter Maly, Prof. W. Schneider, and Studio Vertijet. As a result, COR has received prestigious awards for more than five decades.
2) The second is materials. The care and consideration with which COR chooses its materials for contemporary furniture is deeply respected by Arkitektura of San Francisco. For example, of the leathers produced a varying grades around the world, only a very few special hides from selected regions and manufacturers meet the standards COR demands for its furniture.
All 50,000 hides processed by COR each year are appraised, one by one, through careful examination by the eyes and fingertips of its experienced staff. After all, leather is a by-product of the cattle industry, which is too large to be influenced by furniture designers.
COR find that the hides of Simmental cattle provide excellent size and quality for their sofas and chairs. No surprise as the sturdy Simmental bull can weigh up to 1.3 tons, offering sufficient high quality leather from a single hide to produce the long seamless front of a COR sofa or a large seat cushion. The role of the herdsman is also important. The marks from fork prongs, and too small or badly mucked out cattle sheds, can still be seen even on the finished material from lesser furniture companies. COR finds that Frisians and Red Holsteins from Scandinavia, Northern Germany and Italy, which have been bred under good conditions, also provide excellent leather from which to work.
"COR sprang from the minds of Prince Bentheim Tecklenburg and Leo Lübke in 1955 when they began to make upholstered furniture in Rheda-Wiedenbrück. They chose the name of 'COR' which is Latin for 'heart', explains Andrew Fisher, owner of Arkitektura of San Francisco. "In fact, three hearts are embellished the coat of arms of the aristocratic founders. Barely a year after its inception COR was honored with the first of many awards."
COR fabrics are pure, genuine Merino wool, distinctive linens, easy-care blends, and casual cotton. Each of these materials has a specific look and characteristic of its own. It is the choice of fabrics in the COR collection that make it possible to achieve almost any desired look or service quality, as you may confirm with a visit to the Arkitektura of San Francisco showroom.
3) The third distinguishing factor of the best contemporary furniture manufacturers is assembly. In contrast to common furniture, COR does not close its furniture from below. Instead, COR assembles an extremely stable metal base or a solid beech frame. The latter is not simply screwed together, but rendered rock solid with mortise and tenon.
This concern for design, materials and assembly quality extends across the entire COR product range, which offers you a selection of modern modular furniture, upholstered furniture, easy chairs, chairs, tables, and service tables.
As just a sample of the wonderful contemporary furniture from COR that Arkitektura of San Francisco can provide you, consider these descriptions of sofas and couches in the company's own words:
"Clou – the modular program featuring a multitude of possibilities and the clear simplicity of a system. The basic element is a cube-shaped seat, with two cubes creating a bench seat, three a sofa and four forming a suite. These are combined with the corresponding backrest elements which are then simply attached with one bracket per backrest." Design: Prof. Wulf Schneider & Partner.
"Conseta – It is not age alone but the idea which makes a piece of furniture a classic. In 1963, Friedrich Wilhelm Möller designed Conseta, one of the first items of element seating furniture, now regarded as a modern classic. A multitude of types and elements, combined with the armrest forms, allow freedom of design which offers the right furnishing solution for almost any room plan. Various styles of armrest and a choice of carcass widths provide a wealth of individual design solutions. And if that isn't enough for you, COR gladly offers elements in special widths." Design: Friedrich Wilhelm Möller.
"Jalis – created out of the shape of cushions which rest on pedestals or float on a metal base. Different cover materials, pedestals which can be lacquered or veneered in fine woods and complimented by the matching occasional tables, allow a multitude of planning and design possibilities." Design: Jehs & Laub.
"Mell is the new seating experience from COR: cubistic and representative, spatially unobtrusive, comfortable on the inside and soft in design." Design: Jehs & Laub.
Because of the excellence of these and other furniture products, COR has garnered an impressive continuous stream of awards too long to enumerate. For example, most recently COR received:
SHRIMP | designer Jehs+Laub
Interior innovation award | 2011
FOSSA | designer Aurélien Barbry
Interior innovation award | 2011
JALIS | designer Jehs+Laub
red dot award: product design, Design Zentrum Nordrhein-Westfalen | 2010
LAVA | designer Studio Vertijet
Designpreis der Bundesrepublik Deutschland Silber | 2009
The mention of one more item demonstrates why discerning commercial and private customers around the world prefer COR furniture. The entire annual wool yield of ten sheep goes into the cover of a three-seat sofa. Visit us at Arkitektura of San Francisco and see this quality for yourself.