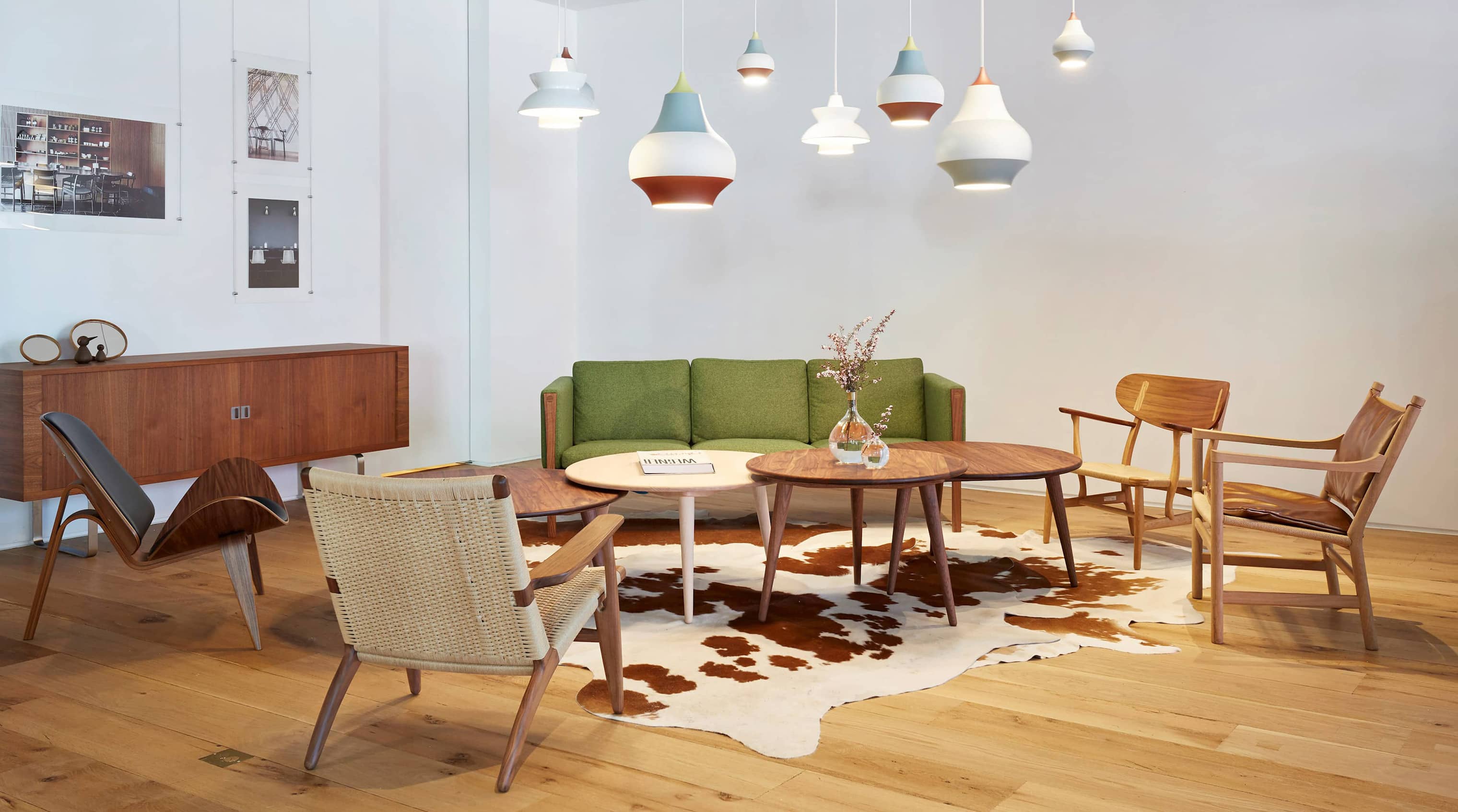 Available only at our San Francisco showroom.
Carl Hansen & Son offers a full portfolio of Danish furniture, including, chairs, lounge chairs, footrests & stools, sofas, dinner tables, coffee tables, office furnishings, children's furniture, bookcases, and lamps. The professional designer and private buyer interested in the best of Danish Modern may view selected pieces at Arkitektura of San Francisco or at Arkitektura's Birmingham, Michigan showrooms and make purchases from the entire Carl Hansen & Son catalog.
Arkitektura, an authorized dealers of Carl Hansen & Son, is a private US company that puts its full energy into finding, displaying and supporting the best modern furniture in the world. Its professional staff is deeply versed not only in the Danish designs of this remarkable company but also in the exquisite materials chosen to bring them to life.
"The full expression of Danish Modern can be seen in Carl Hansen & Son chairs," explains Andrew Fisher, owner of the California and Michigan Arkitektura stores. "These are simple forms in beautiful wood. The Elbow Chair is an attractive and simple stackable dining chair. The low back and horizontal seat also mean that it makes an excellent desk chair," Fisher continues. "The Wishbone Chair is perhaps Hans J Wegner's most celebrated work. A light, attractive and comfortable dining chair with the characteristic Y-shaped back, it is a popular design element in homes around the world."
Apart of the beautiful lines realized by Danish Modern, it is the selection and use of materials that also distinguishes Carl Hansen & Son's sofa, tables, chairs and other furniture. For example, CH102, CH103 and CH104 are a series of beautiful and luxurious Danish Modern designs and available as 2, 3 and 4-person sofas. Handmade over a beech wood frame, and upholstered in your choice fabric or leather, these sofas feature turnable cushions made from a foam core surrounded by European down and foam granulate. Stainless steel forms the legs, the visible frame and the front of the armrests. Manufactured in limited numbers, these Hans J. Wegner designs were reintroduced in 2008 to celebrate the 100th anniversary of the founding of Carl Hansen & Son.
The company also celebrates the genius of Hans J. Wegner in lighting design, perhaps most fully realized in "The Pendant." The Pendant is a true classic of pendant light design, featuring a handle within the adjustable shade that's fully incorporated into the design and allows the user to raise and lower the light without touching the actual shade.
"Furniture from Carl Hansen & Son is designed and produced to last for generations," says Andrew Fisher, owner of Arkitektura stores in San Francisco and Birmingham, Michigan. "The company chooses its materials for strength and durability, lasting beauty, sustainability, architect input and safety norms."
Furniture from Carl Hansen & Son employs selected oak that may be as old as 250 years, and 150-year-old beech and ash mainly from Danish forests. The Danish Modern furniture manufacturer also works in 150-year-old American walnut and cherry.
Carl Hansen & Son furniture features collections of fine leathers for their chairs and sofas. Designers may specify those qualities most suitable for everything from private homes to high-traffic public areas or the most exclusive lounges – and in a variety of beautiful colors.
The leather type "Loke" is a buffed, embossed ox hide with a coated surface. Hides used for this type of leather are sanded to uniform thickness and then embossed to achieve a uniform surface without visible scares or other marks. Finally, a top coating is added to give the leather a protective layer.
The leather type "Thor" is a semi-aniline ox hide with a natural grain and a coated surface. More uniform hides are chosen for this type of leather. It has a largely uniform surface structure with some visible scars or other marks. After aniline dying, a pigmentation coat is added to give perfect color uniformity. Finally, a top coating is added to give the leather a protective layer.
The leather type "Sif" is a full grain, uncoated pure aniline ox hide. Only the very finest hides are chosen. Arkitektura of San Francisco and Birmingham, Michigan recommend this type of leather for designers and private owners who want the very best comfort and quality, and who love the graceful ageing of the very best leather.
Contact us for more information
We are happy to help you with more information about this brand.
Please contact us for catalogs, specs and pricing.