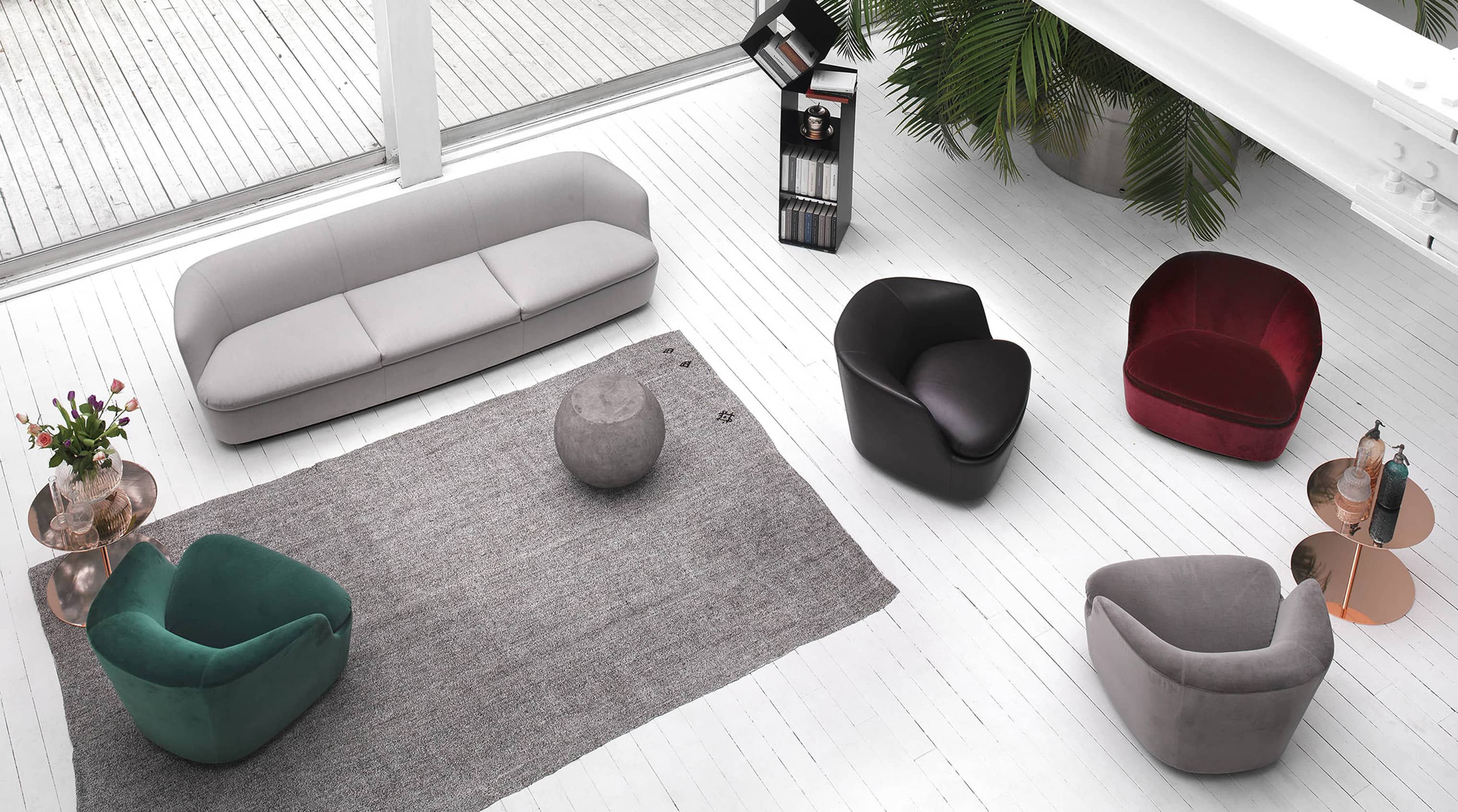 Founded by Giulio Cappellini, the firm is known for tapping new trends in materials and engaging far-flung design talents to arrive at collections that offer a clear narrative of minimalism fused with pop fashion.
In the firm's own words: "The products of Cappellini are never boring neither absurd, but they always possess something of alive and light, often full of healthy humor, other times proposing brave and dynamics formal solutions: these are the characteristics that make the collection Cappellini full of vivacious fractures and contradictions."
"Whether you desire Italian contemporary sectionals, sofas or modern design, you must never miss a study of Cappellini," notes Andrew Fisher, Arkitektura Owner. "The company presents a choice of designers from Israel, France, Germany, Japan, New York and Brazil and includes such design luminaries as Nendo, Ran Amitai and Gilli Kuchik, Werner Aisslinger, Francois Azambourg, Shigeru Ban, Dror Benshetrit, Erwan Bouroullec, Ronan Bouroullec, Todd Bracher, Andreas Brandolini, and Fernando and Humberto Campana."
Born as a handicraft firm purveying the finest of Italian design in modern furniture, over the years Cappellini has produced collections of wild imagination and aesthetics that nevertheless blend into a harmonious presentation of pop culture made of the finest materials. "Bravely, Cappellini keeps on working with designers of the whole world, different temperaments that don't create a real 'Cappellini's style', but that compete to form a balanced and convincing collection," the firm's literature notes.
Today, more than sixty-four world-class furniture designer are actively combining international creativity, extraordinary high quality and unique expression of character for which Cappellini is and always will be renowned.
Visit Arkitektura's showrooms in San Francisco and Detroit (Birmingham, Michigan) to discover Cappellini's World: the consistent flow of tomorrow's leading icons and its renowned archive of new trends across design and the new technologies and materials that makes this design possible. You will be reviewing provocative, heterogeneous, and high influential pieces that represent the forefront of contemporary furniture design in the best homes around the world.
A word about web search for contemporary furniture of Italian design. Leading search terms for Cappellini and other international contemporary furniture design firms may include: "stool with" or "stool stool", "sofas de" or "de sofas", or "sofas and", "tables console", or "the s chair." Search comes to people each in his or her own way. What are you looking for? The physical expressions of La Dolce Vita that define so many of the world's great homes, cosmopolitan airports, sophisticated bars, elite hotel lounges, world class museums, five-star restaurants, modern executive offices and romantic outdoor space? However you arrive at Arkitektura's San Francisco or Detroit showrooms, welcome.
We have the contemporary furniture collections you are seeking.