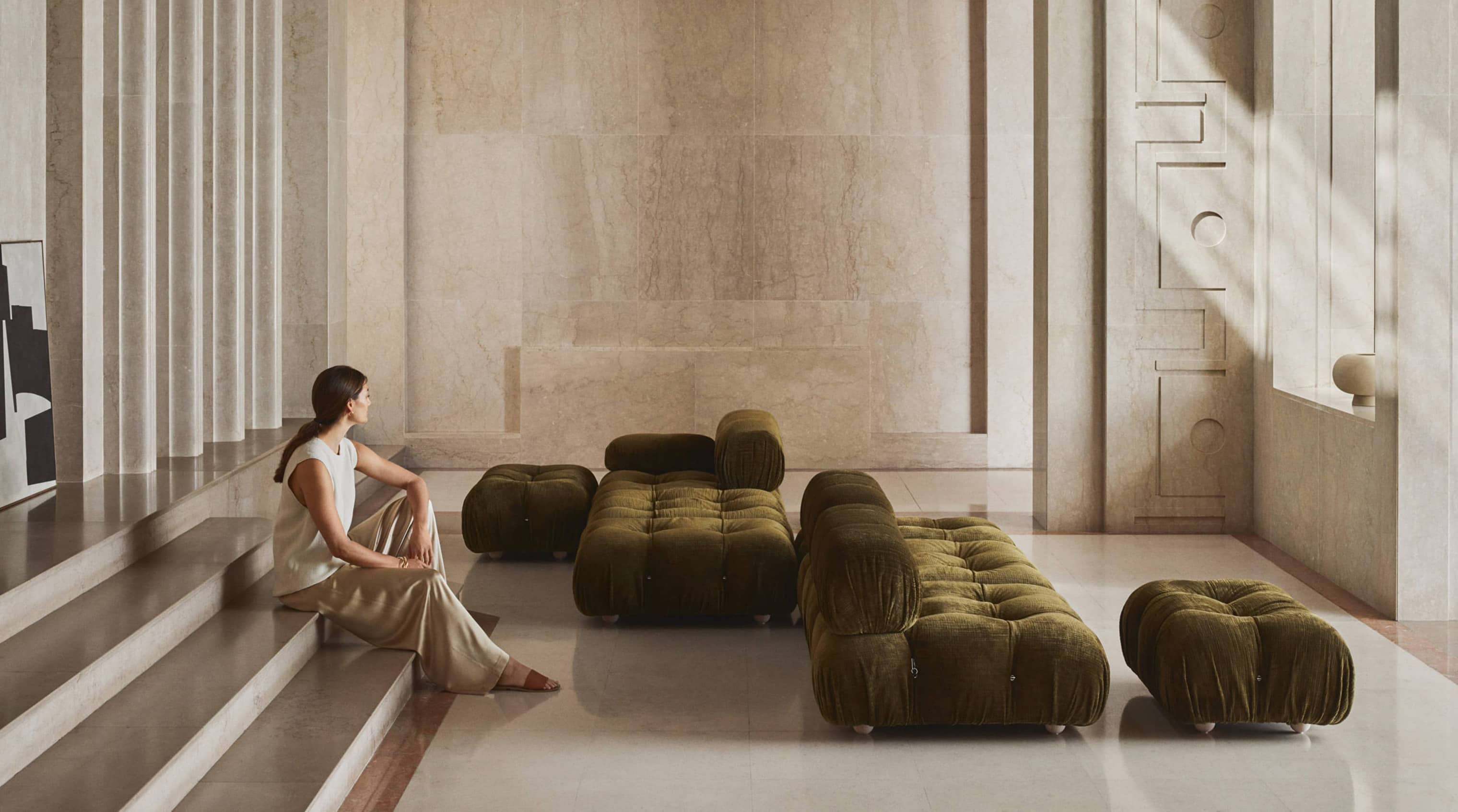 Since its founding in 1966, B&B Italia has won international acclaim as the embodiment of Italian furniture design, both for homes and public space. No one is better at interpreting contemporary culture or at responding with creative authority to each new need that emerges from today's evolving lifestyles. It is this mastery of a formula of creativity, innovation and production that creates modern, yet timeless, pieces of furniture.
It is impossible to argue that B&B Italia is not at the pinnacle of the contemporary furnishing sector. This may be confirmed at the first visit to the showrooms of Arkitektura in San Francisco or Detroit (Birmingham, Michigan).
When seeking the best in sofas, chairs, armchairs, chaise lounges, tables and other contemporary furniture, the most discriminating patrons may correctly focus on the aesthetic aspect (the formal "appearance") of the product. With B&B Italia, they will find themselves equally rewarded by examining further the structural and technological qualities as well as the planning process the product is based on. For B&B Italia does not strive to be merely best at one thing, it seeks to be the finest expression of all of these things that define the extraordinary appeal of Italian Design in contemporary furniture for home and office.
"B&B Italia collaborates with the lead roster of international designers, including Afra E. Tobia Scarpa, Antonio Citterio, Atelier Oï, C. Gerhards – A. Glücker, Chris Howker, David Chipperfield, Edward Barber And Jay Osgerby, Ettore Sottsass, Gabriele E Oscar Buratti, Gaetano Pesce, Jakob Wagner, Jean Marie Massaud, Jeffrey Bernett, Marcel Wanders, Mario Bellini, Monica Armani, Naoto Fukasawa, Nicole Aebischer, Paolo Piva, Patricia Urquiola, Richard Schultz, Roberto Barbieri, Studio Kairos, Uwe Fischer, Vincent Van Duysen, and Zaha Hadid," says Andrew Fisher, Arkitektura Owner. "Each imprints his or her distinctive mark on each product: every design is unique, an exemplification of the values of research, creativity and function. Arkitektura of San Francisco and Detroit are proud to be Authorized Dealers."
Nor should one overlook the major contributions to the design of bed, outdoor furniture, wall and storage systems, and executive office furniture. In reviewing all of its pieces, B&B Italia has won four "golden compasses," the most important one in 1989 for "constant work towards integration with the aim of combining the values of scientific and technological research with those of a functional and expressive product." No surprise, then, that the company has claimed its membership in Fondazione Altagamma, which brings together Italian companies that operate at the higher end of the market and that exude Italian culture and style for international renowned.
Among its distinguished brands, B&B Italia offers The Maxalto Collection, work based on classic themes with contemporary flair. Its Lucrezia Simplice Lutetia Simplice and Fero Aptia collections of sofas, as well as its Omnia, Simpliciter and Simplex, Crono Simplice and Imprimature Aptia pieces provide extraordinary realization of the best of Italian and international style.
Any collection of pieces from B&B Italia is a realization of the latest production materials and techniques that rewards the final customer with benefits of quality and comfort. Arkitektura is proud to be an authorized dealer at its San Francisco and Detroit display centers.