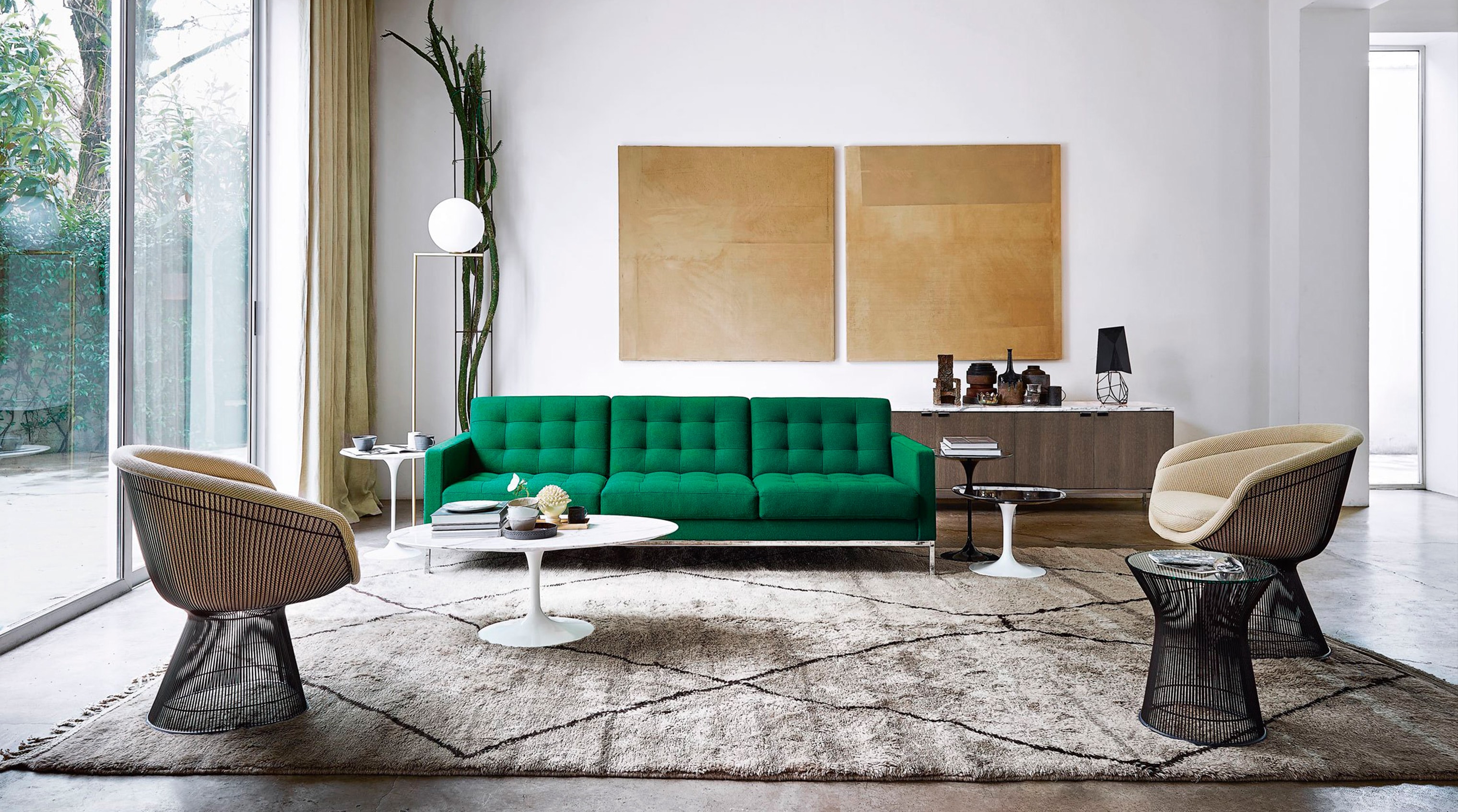 For more than 75 years Knoll has remained true to the Bauhaus design philosophy that modern furniture should complement architectural space, not compete with it. At Knoll, modern design has been their guiding principle, and their passion has been shared by customers and design professionals worldwide.
Founders, Hans and Florence Knoll, embraced the creative genius at the Bauhaus School and the Cranbrook Academy of Art to create new types of furniture and environments for the workplace. Their approach, where craftsmanship joined with technology through the use of design, anchors our perspective and shapes the values we endeavor to live by today.
A long history of collaborations, with pioneering modernists to bold contemporary designers, define not only the past but the future of Knoll through active, recent, and future partnerships with Antenna Design, Formway Design, Don Chadwick, David Adjaye, and Rem Koolhaas.
Florence Knoll developed the idea of the modern office and pioneered the interior design profession.
Through research and experience worldwide, Knoll set standards in solving practical workplace needs. From private office furniture for individuals to the evolving spectrum of open plan furniture that supports an ultra-linked, connected workforce, they offer a definitive resource to address the dynamic activities of the contemporary office.
Today, Knoll is inspiring a new generation with a dedication to the most innovative and dynamic designs for corporations, healthcare organizations, educational institutions and governmental agencies.
Knoll's illustrious list of designers include:
Raul de Armas, Tim van Campen, Alvar Aalto, Gerald Abramovitz, Paul Aferiat, Anni Albers, Franco Albini, Don Albinson, Marc Alessandri, Davis Allen, Emilio Ambasz, Antenna Design, Sergio Asti, Gae Aulenti, Enrico Baleri, Jhane Barnes, Wolf Bauer, Anne Beetz, Hans Bellman, Jeffrey Bernett, Marc Berthier, Harry Bertoia, Ayse Birsel, Cini Boeri, Antonio Bonet, Marcel Breuer, Lewis Butler, Vincent Cafiero, Achille Castiglioni, Pier Giacomo Castiglioni, Don Chadwick, Andreas Christen, Colebrook Bosson Saunders Stephan Copeland, Pepe Cortès, Dorothy Cosonas, Lise-Anne Couture, Jonathan Crinion, Joseph D'Urso, Robert DeFuccio, Neils Diffrient, Nicholas Dodziuk, Peter Eisenman, Jim Eldon, Dale Fahnstrom, Jorge Ferrari-Hardoy, Formway Design, Neil Frankel, Enrico Franzolini, Emanuela Frattini Magnusson, Gianfranco Frattini, Dino Gavina, Frank Gehry, Rudy Gernreich, Alexander Girard, Brian Graham, Charles Gwathmey, Paul Haigh, Peter Hamburger, Bruce Hannah, Eszter Haraszty, Christa Haussler, Robert and Trix Haussmann, Marc Held, Sheila Hicks, Evelyn Hill, Hans Hollien, Suzanne Huguenin, Dragomir Ivièeviæ, Arne Jacobsen, Pierre Jeanneret, Jehs+Laub, Florence Knoll Bassett, Donald R. Knorr, Antti Kotilainen, Robert Kulicke, Lawrence Laske, Gary Lee, Angelo Lelii, Marc Lepage, Maya Lin, Piero Lissoni, Josep Lluscà, Ross Lovegrove, Roberto Lucci, LTL, Vico Magistretti, Erik Magnussen, Carl Magnusson, Angelo Mangiorotti, Marco Maran, Roberto Sebastian Matta, Herbert Matter, Maxdesign, Michael McCoy, Richard Meier, Lucia Mercer, Clay Michie, Ludwig Mies van der Rohe, Abbott Miller, Andrew Morrison, Pascal Mourgue, George Nakashima, Isamu Noguchi, Kurt Nordstrom, Paolo Orlandini, Pearson Lloyd, Max Pearson, Jorge Pensi, Don Petitt, Charles Pfister, Piiroinen, Warren Platner, Charles Pollock, Gio Ponti, James Prestini, Adrian and Merkley, Parry Pulfer, Christine Rae, Ralph Rapson, Hani Rashid, Jorgen Rasmussen, Robert Reuter, Carlos Riart, Linda and Joseph Ricchio, Jens Risom, Charles Rozier, Eero Saarinen, Richard Sapper, Tobia Scarpa, Richard Schultz, Seiler, Mathias (for Sedus Design), Shelton, Mindel and Associates, Robert Siegel, Ettore Sottsass, Peter Stamberg, Bill Stephens, Marianne Strengell, Kazuhide Takahama, Iimari Tapiovaara, Ufficio Tecnico, Suzanne Tick, Nob and Non Utsumi, Robert Venturi, Massimo and Lella Vignelli, Hans Wegner, Gretl and Leo Wollner, Otto Zapf, Ludwig Mies van der Rohe